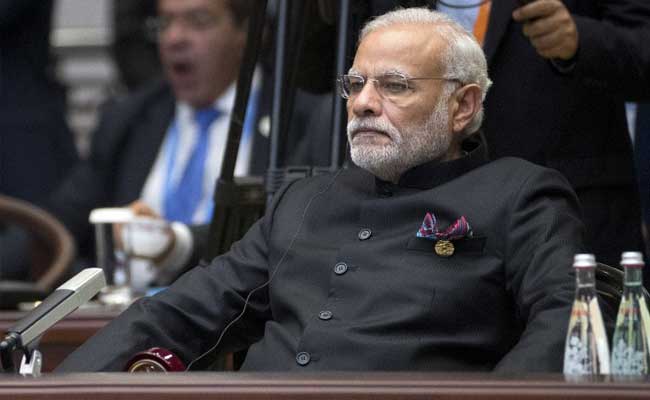 Hangzhou, China:
A "difficult conversation" was not enough to combat the current global slowdown, Prime Minister Narendra Modi said at the G20 summit in China's Hangzhou today, pressing for a "collective, coordinated and targeted action" by the G20 members to revive economic growth. He had flown into Hangzhou on Saturday for the crucial G20 summit and talks with top world leaders.
Here are the top 10 updates in this big story
"We meet at a time when the global situation faces complex political and economic challenges," Prime Minister Modi told the G20 leaders. "A frank, even a difficult conversation won't be enough. What G20 needs is an action oriented agenda of collective, coordinated and targeted action."

Laying down an agenda for structural reforms, he said there was need to improve financial system, boost domestic production, enhance infrastructure investment and create a pool of human capital.

With the summit tucked between Britain's vote in June to exit the European Union and the US presidential election in November, observers expect G20 leaders to mount a defence of free trade and globalisation and warn against isolationism.

But some G20 leaders have begun drawing battle lines in disputes over issues ranging from trade and investment to tax policy and industrial overcapacity.

Other leaders attending the summit in the eastern Chinese city of Hangzhou include Russia's Vladimir Putin, Japan's Shinzo Abe, Britain's Theresa May, Germany's Angela Merkel and France's Francois Hollande.

Earlier today, India called on BRICS members to intensify joint efforts to combat terrorism as PM Modi, in an apparent reference to Pakistan, demanded "coordinated actions" by the grouping to "isolate supporters and sponsors of terror".

In a hard-hitting address, PM Modi said, "Terrorists in South Asia, or anywhere for that matter, do not own banks or weapons factories. Clearly, someone funds and arms them."

Before the BRICS meet, he also met Chinese President Xi Jinping. "India, China must respect each other's aspirations, concerns and strategic interests," he told President Xi, in talks that come amid a new frosting of ties between the two countries.

"The response to terrorism must not be driven by any political consideration," PM Modi also said, in a reference seen as a dig at China's opposition to designating Jaish-e-Mohammed chief Masood Azhar as a terrorist in the United Nations. China is currently building an $46 billion Economic Corridor to Pakistan.

President Xi said that the two countries should constructively handle their differences. "China is willing to work with India to maintain their hard-won sound relations and further advance their cooperation," state-run Chinese Xinhua news agency quoted him as saying.