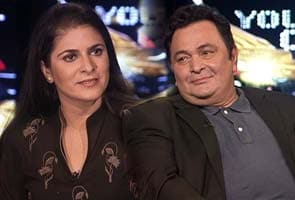 NDTV:
Good Evening and welcome to your call. Tonight's guest, an actor who has started in his teens, playing the role of his father's son. He went on to become the prince of romance in Bollywood in the 1970s. Recently, of course his movie
Do Dooni Chaar
but now a performance of a lifetime. Let's just look at that.
Movie ClipsNDTV:
Mr Kapoor, it's a privilege to have you here tonight.
Rishi Kapoor:
Thank You.
NDTV:
Unbelievable to re-invent you like that, the role of a lifetime?
Rishi Kapoor:
Well, I don't know how to put it across. The kind of trouble I gave the director to convince me to do this role, I am absolutely sorry Karan. Karan Malhotra and Karan Johar, I really drove you up the wall, I wouldn't do this film.
NDTV:
Did you ask why did they think of you as an evil pimp?

Rishi Kapoor:
Exactly, this is what I keep telling everyone ki how did they ever think that I would be the right person for this role? I mean I don't fill in any of those required norms for this character.
NDTV:
What was the most difficult part for you once you were convinced? You said the director had a vision. How did you work on changing yourself?
Rishi Kapoor:
See, It's like this. I thought that if I, I didn't have the confidence to play this role. To be honest I didn't feel I would do justice to it. So, what I said was that I need a kind of a, let's say an audition. I would like to see if I kind of look the part, whether I'll be able to carry it off, because I somewhere down felt that if I didn't carry it off, I thought the film would fail. People will laugh at me. I'll probably look like a Walt Disney villain, you know, comedian more than anything else. So, and that was at the back of my mind. Then of course once we started getting into the film, the director was in control of the make. He knew exactly what he wanted. He was very clear in his mind and his vision actually helped me sail through.
NDTV:
That is really nice. But you know, I actually do have a surprise caller. I didn't know he was calling in. I have Karan Johar on the line to ask you a question and Karan Johar, we have Rishi ji and tell me about how you and the other Karan managed to convince him to do this role? But go ahead and ask him your question and can I ask you why you thought of him as a pimp?
Rishi Kapoor:
Pimp.
NDTV:
Sorry, I don't know if I should say pimp on national TV, why you thought of him as an evil character?
Karan Johar:
I think I had the audacity and Karan Malhotra had the vision to cast Rishi Kapoor in a role that was dramatically different from what he done before, ever. And I, we, Karan was totally convinced that Chintuji would pull this off better than any other actor this country would. So, hats off to him the way he saw it. You know, convincing Chintuji wasn't easy because he was so traumatized about playing like this. Finally, when he got it into the gear and whole look, we knew there could be no Rauf Lala better than Rishi Kapoor in the country.
NDTV:
And anything, you like to, Rishi you can go ahead now and say, okay, thanks, he was right.
Rishi Kapoor:
Well I stand, absolutely corrected. I am saying time and again, on every platform, every show, everything, thank you both Karans for even thinking of me, I would have never done it and I said no to him anyway.
NDTV:
Karan, if I could congratulate to you as well, because it couldn't be an easy task to remake film, a cult classic, which your father had produced. So, for you also, it must be a huge, I don't know, perhaps a vindication that this movie has turned out so brilliantly, so differently and you know your trust in characters has paid off.
Karan Johar:
I know, actually it's great. I feel really proud that the production house has two
Agneepaths
, and one was cult classic and the now the other one is a commercial success. I feel great. It's a proud feeling for me and the company.
NDTV:
Karan Johar, Thanks so much for taking the time to speak to Rishi ji and us tonight. Thank you so much. Well, I also said we have got so many of audience here and we have people from around the country who want to ask you questions. So, let just hear what they have to say.
Rishi Kapoor:
Sure.
NDTV:
Did you consult? Did you consult with your wife, with your son before taking this role, with your family?
Rishi Kapoor:
I can't really remember, but yes I did say to them that I am playing a negative character. They say, so what. I am an actor and actors should be willing to play all kind of roles. You know, I tell you one thing, yes I was going to South Africa, I remember, and I did and on my Facebook I even posted questions that I have to play a very evil character and when I say evil, it's black, black, real black. I had a very good response on my Facebook. And well I was in South Africa for these shows, in which there was a retrospective of mine in there, and I asked the audience
ki
would they like to see me after seeing those films of mine which were going on? And I said would they like to see me in a very negative evil role and all of them said no. So, I convinced them. I said, listen what you have seen me now is romantic, which over the years I have played, you know. All my years as a leading actor, I was only running around trees and singing songs and romancing the heroine. I said, now given a chance I should be able to, the actor within me should be allowed to, you know, to experiment with myself or re-invent myself. So, when I explained to them, as I should be allowed, and you should see me as an actor, not image as a star and I am no more young, I am no more thin, I am no more anything required of being. And you know, they kind of felt that I was saying the right thing, and then, you know all these small things attributed to encourage me to take it up.
NDTV:
Which is the, which is the reaction that has touched you or you felt the most exhilarated about you? You had the huge audience reaction, but you know, somebody who you really values the reaction.
Rishi Kapoor:
Among all the SMS's and phone calls and everything, from so many people, I probably think whomsoever I know in the film industry probably may have messaged me. But immediately that comes to my mind what Waheeda Rehman ji actually has sent to me. She just said, she smsed me 'I hated you'. That was so sweet of her.
NDTV:
We actually, we did our audience poll on ndtv.com and we asked them which are the top five Rishi movies of all types. So let's just look at some of the clips that they suggested.
CLIPSNDTV:
The result of that poll said that it was
Karz
as number 1,
Bobby
was number 2,
Amar, Akbar Anthony
, then
Do Dooni Chaar
and
Agneepath
.
Rishi Kapoor:
Wow, only two of them have playing me character's actor. That's very ...
NDTV:
That's a huge compliment.
Rishi Kapoor:
Thank You. Thank You.
NDTV:
What do you think? Five years down the line, it may change completely. You may find that your latest movies may actually top.
Rishi Kapoor:
You never know. You never know.
NDTV:
But, tell me, did our poll match your favorites? So if you, I mean they are all close to you in different ways but what are your favorites?
Rishi Kapoor:
You know, I really can't, you know, make favorites out of them. But I do feel
Prem Rog
and
Damini
should have been in the list as well. I, I have fancied these films and of course
Chandini
is a good film as well. Well, I think, being hero-oriented films, they were all, you know, basically hero-oriented films. I felt, I felt my work was not bad at all in those kinds of films. Well, I don't know, I am very embarrassed to name my work. Whatever, I always look forward to new films, always look forward to new challenges. I am looking forward to few of my films, which are under production right now, and they will release this year and they are also very exciting. And of course, very scary that you going to live up to a certain kind of, some kind of what the audience expect out of me.

NDTV:
Bollywood loves images, I hope, you are not going to get on villain roles now.
Rishi Kapoor:
No, No, I am not that kind of guy who wanted to get slotted. Enough, 25 years of only singing songs is now enough now. No more now, you can't be; I can't be beaten up by the other hero now.

NDTV:
Now, you gave Hrithik as good he got in the beginning part of that. But, when we have you here, of course I can't talk of just one movie. Let's just go back to where it all began.
CLIP
Rishi Kapoor: Achla Aunty, Achla Sachdev ji, Achla Aunty actually really beat me up. My father told her that I want you to be in a mood and you slap him and slap him hard. And there were 8 to 10 retakes of that shot.
NDTV:
I know, your emotions are very genuine in that.
Rishi Kapoor:
But those were, those slaps were blessings. They were blessings for me from Achla Aunty and my Dad. You know, those were the actual blessings.

NDTV:
When you look really at the Kapoor acting dynasty, it's amazing. Because you have seen first your Grandfather, your Father, your Uncles, you and your brothers and now Ranbir, Karisma, Kareena
Rishi Kapoor:
Thank You
NDTV:
Being part of the industry, what is it in, it's in your genes, you just grow up thinking, talking, dreaming movies?
Rishi Kapoor:
Probably, it's audiences love for us, or whatever blessings or whatever, I really can't say what it is really. But surely one thing that it's been about 80 years, we have been at this job and proud to say, that right now it's the fourth male generation who is actually in the entertainment world, and we hold a record. There is no one else in the world who has ever been for generations in this show business, and that is also films. Well I am absolutely honoured to be a part of this film family, I mean, who else but me, that my Father, my Grandfather and now my son have been in this. It is a very good feeling. And yes it is.
NDTV:
I remember reading earlier your Dad was not an easy taskmaster. What was it like acting in the first film when, then of course the lead role in Bobby, the huge pressure that must have been on you with newcomer Dimple then? Both of you were new comers.

Rishi Kapoor:
Yes, what do I say to that? Whatever I am today, whatever, is because of him obviously. If you know, if you remember
Bobby
was actually a hero-oriented film. It was a film what Raj Kapoor wanted to make. It was not a film that he was launching his son. I was there by default, no honestly, I was there by default, because a young actor was needed and probably I was appreciated in
Mera Naam Joker
and that is how I was slotted into Bobby. Otherwise the film was what Raj Kapoor, as a filmmaker wanted to make. It was not a vehicle meant in those days to launch a star son. Please. You know, people don't realise this, but the fact of the matter is that Bobby was supposed to be the lead role and there's obviously the lead pair, lead hero. So, what I say to that I must be lucky to have landed that role. This generation doesn't really need guidance in any way

NDTV:
Really?
Rishi Kapoor:
Yes, absolutely. I don't think Ranbir has ever discussed work with me ever. What I truly must tell you is that Ranbir, when he was starting out, he told this to his mother that he doesn't want to play the typical, you know, the cap twisted this way, you know, basket ball in his hand, skate board here, 40 dancers behind in a situation. He wanted to play his age in a different kind of way in different films. He was on a different curve altogether to speak and that's what he did. That's how he experimented himself by doing films like
Wake up Sid
and salesman of the year
Rocket Singh
, and perhaps
Rajneeti.
Played negative shades in
Rockstar
or
Ajab Gajab
, whatever, those were his choices. I have no say in his creatives at all, and that's why I probably think audiences have liked his guts to actually, you know, not go on the warpath. You wanted to do something different
NDTV:
He told me in an interview that you are his toughest critic.
Rishi Kapoor:
I don't know, but right now I am the toughest colleague, should I say that ..
NDTV:
You are giving him competition. We are going to debate who is a better actor later
Rishi Kapoor:
Well he must be really because he is what 6-7 films old and he has done pretty well
NDTV:
All the awards this year it's great for
Rockstar
. He has won all the awards. It's great. Well I am going to ask a question now from a contemporary director who has worked with both of you. Imtiaz Ali has this question to ask you
Imtiaz Ali:
Rishi ji good evening
Rishi Kapoor:
Hi
Imtiaz Ali:
I have to ask you a question. Now as you know, Ranbir Kapoor's parents are both actors. So the question I want to ask you is, when you see Ranbir acting in movies, what traces of yourself and of Neetu ji you see in that?
Rishi Kapoor:
Can I answer that?
NDTV:
Yes please

Rishi Kapoor:
Well not to sound very pompous but I do feel that he has this, he probably has the same passion for acting as what I have. My passion, my absolute sincerity, my dedication towards the craft, that I call acting. I feel that he is dedicated to those skills. I feel that he takes it very seriously. But I do feel one thing that, which he hasn't built up, is that he hasn't yet mustered enough courage to do very messy roles. You know, we know, that he is a reasonably good actor, but I want him to do now films that will go beyond just multiplexes

NDTV:
Bodyguard type of movies?
Rishi Kapoor:
And go to small cities and small, you know he must take up those roles which he hasn't yet, but I believe he is thinking of, you know, trying to work on that, so I see that in him. I see a lot of Neetu in him. I don't see myself in him. That's what people say that. So, I guess Imtiaz, I don't know if you agree with me, but I just hope that he keeps that, his dedication to that level that he has kept right now.
NDTV:
Well it's interesting what you said to Ranbir, because I have Ranbir online now, who wants to ask you this. Ranbir Kapoor, go ahead
Ranbir Kapoor:
Hi Papa, this is Ranbir here. I mean it's quite a silly thing to say, because the only other male person who would call you Papa is me, but this is a question I always wanted to ask. Being a son I never asked you this, but after working for more than 35 years in films as an actor, how do you still possess the drive and still possess the excitement of a baby that you have, when you are approaching a character, approaching a film? Because I have been in the industry now for 4 years and I still sometimes get a little de-motivated and a little bored of, you know, certain things that I do. So I wanted to know what's the secret of this excitement that you possess towards your work, like how do you keep it alive?
NDTV:
Madness, the passion for it
Rishi Kapoor:
I mean speaking about this what Ranbir just mentioned, Ranbir I don't know, probably it's, it should excite you. I get very excited when I have to work in a film and when I am narrated. I don't know I am very excited about working in films; I can never get bored of working in films. I can never say that I don't want to work anymore. That would be an absolute lie because I enjoy, I take delight in working in films because I feel it's an honour, you know, to entertain people, to regale audiences. You know we are people who are always looking for an opinion from people, actors are only actors because they want your opinion, whether you like it or not. Even if you don't like it you should take it in a right spirit. Criticism is also very healthy, so is, you know, if you are getting bouquets for your performance you should accept the big bats as well. So that is my excitement, that is my love for, and probably son, your Grandfather and your Great Grandfather were also in the same bloody business you know, so you also better start liking it.
NDTV:
Poor guy, he didn't say ...
Rishi Kapoor:
And it's not 35 years, its 40 years
NDTV:
And he is more than 4 years old I think
Rishi Kapoor:
He doesn't know. He is just counting his 4 years in the industry
NDTV:
What is interesting is in '70's we had you as the romantic, the lover boy, the eternal hero and the angry young man is Amitabh Bachchan. So it was interesting that India of that times both seem to play off different social aspirations in cinema
Rishi Kapoor:
My God that was some kind of a hurricane. It was called hurricane Amitabh Bachchan. You know, the angry young man and the violent times, you pitted against Amitabh Bachchan, Dharmendra, Shatrugan Sinha, Vinod Khanna, the likes and all the action heroes. All action films, at any given point of time, every hero at that time always had 2 or 3 or 4 minimum films based on lost and found "
ki bachpan me bichde aur climax me villain ko maarte maarte mile
". You know audiences were very forgiving that time. They were very, you know, but today's time there is so much of exposure, there is so much of you know internet, cable TV, you are seeing so much of the world. So films have become so competitive that you have to really, you have to give all that you have to compete with world cinema. It was much easier for us those days. I sometimes, you know, marvel at young actors today, how they are coping up really with these times, you know. Your choice of right subjects, and then the success of that subject, everything counts
NDTV:
Do you find it all sometimes but a bit, it's so corporatised, it's so, I mean I am, so glad in fact that I didn't interview you before the movie, because otherwise these promotions and studios and various actors go, it's almost like an assembly line production now. Marketing a movie has now become, like luck by chance. You have some lines about that as well. Do you miss sometimes the rawness; the passion there was at that time in Bollywood? Could you think it's a different kind a more refined corporate version?
Rishi Kapoor:
I don't think it is wrong when you, when an actor goes and sells his film. I mean its salesmanship; you got to tell the world what you have. You got to tell them these are my wares, please see how do you like them. If you like to buy them please buy them, there's nothing wrong in that. That's how the actors are wooing now their audiences on your channels and whatever shows you all have, so there's nothing wrong in that. That's the actual call of today. But I truly feel in today's times the actors work very hard, they are very punctual, they are very systematic. They are very professional, not that we weren't in our times. There were few of us who were, but today that's actually the call, you know, you have to be very, you know, what should I say, systematic towards the work and the actors are doing a marvelous job today. There are marvelous films being made today. I do have some kind of regrets as far as the content is concerned
NDTV:
The magic, the madness.
Rishi Kapoor:
The content today is a little bit; is less. Very few good subjects are being made, very few and lyrics are absolutely gibberish, you know, absolutely garbage so to speak. I can't remember lines, I am telling out of my own experience. I have sung couple of songs. I have sung a song, you see this photograph of mine, I have sung a song in
Agneepath
, I couldn't remember lines. Maybe it's my age, I can't remember. I couldn't remember, I can't make; I can't picture the words. It doesn't appeal to me. I am sorry. Maybe it didn't work with me; I have done some other songs also, I just can't remember them. That must be my age but nothing else. I mean, having you know, having probably definitely sung more than 300-400 songs in my life. I mean considering that I have sung and remembered, why can't I remember now?
NDTV:
We have got, I think, Hindi films is really something which cuts across, everybody watches Hindi films and I have got some interesting people, some politicians who even managed to watch your films. I have got Renuka Chowdhary and Farooq Abdullah. So let's hear what Renuka Chowdhary of the Congress has to ask Rishi ji first.
Renuka Chowdhary:
It's a great pleasure to be able to talk to Mr Rishi Kapoor who really was the heart throb of ...
NDTV:
... she is blushing Rishi.

Renuka Chowdhary:
... his eras, so it was very surprising. I wanted to ask you how did you do the transition from the evergreen romantic hero to the negative role that he played in
Agneepath
? I think it's amazing that he is able to do the transition like that. How did you do it?
NDTV:
Before you answer that I just wanted to ask Mrs Chowdhary, do you ever get time to watch Rishi Kapoor movies and which was your favourite?

Renuka Chowdhary:
You know what happens is when we travel a lot and we are checking into different guesthouses and hotels, the only companion is your television. In the evenings, just before I go to bed, I keep switching channels to see news and sometimes in between we catch episodes of movies, and I must have seen some gazillion movies like that. But I don't know the beginning and the end, but I do see content in the middle, and it's always been Rishi Kapoor, the heart throb, evergreen romantic hero. I think all our husbands had a hard time living up to that image, because he always made a woman feel like a million bucks.
NDTV:
Now you are blushing
Rishi Kapoor:
I am embarrassed, not even blushing. Thank you Renuka. Thank you Renuka ji. I am absolutely honored. I am humbled actually, for what you have said, and considering that you are such busy people and, you know, you get hold of us through television and in bits and snatches, and then we appeal to you. Thank you so much. Whereas you said the transition, well it's a natural process, you know, when you are aging, you know, you can't be, you know always be serenading, there has to be a time when you know you have to come back to, you know, planet earth and start behaving your age and start doing certain kinds of roles. Thank you ever so much. I will try my best to do my best for you to keep enjoying our films.
NDTV:
Well she said that bit of a heart throb and all the husbands had something to worry about. Tell us a bit about those heart throb days and what it was. I am sure Ranbir gets all of that now, but what was it like in that heart throb days and your many, many female fans?
Rishi Kapoor:
Those are long stories now and I don't want to get into those, but yes, I have been blessed and fortunate that, you know, people have liked me and liked my work, and obviously due to my work they probably, you know, coined these terms as you put it. But ...
NDTV:
What is the craziest thing your fan ...
Rishi Kapoor:
... it's ultimately boils down how good you do your work
NDTV:
What did your craziest female fan ever do?
Rishi Kapoor:
Oh please, we don't want to get into those things, but yes, I see Ranbir enjoying all that. I am reminded of my younger days, you know, girls standing outside the house, waiting for it, you know, come sunshine, come rain they are still there you know whatever.
NDTV:
I hope you don't growl at them and tell them go?
Rishi Kapoor:
I do, I do. I am so sorry, I get angry, you know, what are they doing at this time, you know, time of the hour.
NDTV:
Mr Kapoor you have to remember when you were young
Rishi Kapoor:
Yes. Perhaps then I stand to be corrected, you know, I shouldn't be doing that. You know I give them a very dirty look when I am getting out of my car for my house and I see them and I say, what the hell are you doing at this point of night?
NDTV:
We are going to tell Ranbir now he knows that his female fans are chased away. Well, we had Renuka and I said we talked about mass adulation and politicians are a poor second when it comes to film stars. But very flamboyant politician, Dr. Farooq Abdullah, had this to ask you. Of course former Chief Minister of Jammu and Kashmir which the Kapoors have really been close to Kashmir, let's hear what Dr. Farooq Abdullah has to say, go ahead Sir
Farooq Abdullah:
The first and foremost question I would like to ask him of is his shooting in Gulmarg, the film that his father shot was Bobby. What was his experience with this young girl who was totally the first star in the film world? How did he cope with the things that happened, did he fall in love with this girl at all?

Rishi Kapoor:
First of all
Adab
, Farooq Abdullah
sahab
. I am reminded of the times when your Father gave us all the assistants and co-operation needed when we used to work in the land which is known as Kashmir, heaven absolutely that is. Yes, I thoroughly enjoyed Kashmir. Kashmir, I miss it, I totally. It's just been 2 months back I was at Imtiaz Ali's brother's wedding and I was there for 4 days. What a time I had Sir, I reminisce, I remember all things, I was like a child taking photos from my Blackberry and BBMing all those photographs to my friends and relatives. I said I sang this song here; I did the scene here, did that there. You know for me it was like a child, a delight, the delight that I had in my eyes. I enjoyed Gulmarg, I enjoyed Pahalgam, but the unfortunate thing that what saddened me was actually that the amount of traffic, and the amount of people, and the amount of, you know, everyone was there. Whenever I went to Chashmashahi or Shalimar Bagh, whenever I went, hordes and hordes of tourists were there. Of course in one way I was delighted that Kashmir is coming to its own, you know, people are coming back to the city, the state, and for me its saddening because we used to go there ourselves and shoot songs and do things, and there were hardly any people. So in that context I was very saddened. But having said that, we hope that, you know, Kashmir will again call the film industry back to, you know, the film, I know for a fact that there is a film of mine being shot any time now called the Student of the Year, that is again Karan Johar's film, he is directing it and he is shooting the film again in Kashmir. So I am reminded of Bobby. As Bobby, I started my career from that land and I still want to go there, I still want to work there, what else can I say?
NDTV:
We are going to play a clip of that song, I don't know if we have it right now but we will play a clip of that song Hum Tum and tell us about that song. Was that really Kashmir?
Rishi Kapoor:
Yes
NDTV:
And both of you at that time it was wonderful.
Rishi Kapoor:
Absolutely. That hotel which is still there, Highland Park, lovely people you know. That formed the actual location of the song. All the exterior is that, but the interior, which people do not know, I don't know if I should say this on television or not?
NDTV:
Come on you have to spill some secrets
Rishi Kapoor:
It will kill the curiosity you know. But okay, I will let out the secret. The interiors were created at RK Studios
NDTV:
Really?
Rishi Kapoor:
Yes. People do feel that, you know, that is the house where Rishi and Dimple sang the song and that is the bukhari. Bukhari is the fireplace
NDTV:
I am sure there must be some hotels saying, that this is the room, right now in Kashmir
Rishi Kapoor:
But that was the room. Yes as I said the exteriors were shot there. We got out of the room there when there is a guy who opens the door there and we are singing a song and there is a lovely path of the flowerbeds on the side. That was all Highland Park, Gulmarg, and I mean what delightful. I have a picture on my BBM, you know, if I could show it to you, I still carry it with me. For me its heaven, it was my first picture. I started my career from that place. So it will always be very close to my heart. Kashmir will always be very close. I am reminded my Father shot his second film of his directorial venture
Barsaat
; he couldn't afford to take his unit there because, you know, it was very expensive. So he and the cameraman went there and just shot the exteriors and they shot the film because they couldn't afford it. So he shot
Barsaat
also in Kashmir
NDTV:
That's lovely, but what about when you went?
Rishi Kapoor:
I hope, you forget, Shammi Kapoor and Shashi Kapoor and Randhir Kapoor, all doing their films in Kashmir; I fell in love with my wife in Kashmir.
NDTV:
That's wonderful and you mentioned your wife and falling in love in Kashmir. Let's just play some of the wonderful moments of the Rishi-Neetu pair
Rishi Kapoor:
Please do that I will be happy.
CLIPS
See this is
Khel Khel Mein
and the other one is
Amar, Akbar Anthony
, this is
Do Dooni Chaar
NDTV:
Your love story was like a Hindi film movie as well
Rishi Kapoor:
I am sorry?
NDTV:
Your love story was like a Hindi film movie as well, romantic proposal. Tell us about that for all these young kids out here who want to hear about true love stories, tell us about that time
Rishi Kapoor:
What is there to say, you know, things happen, love happens. It's not that you plan it. It just happened. Perhaps you were talking all the time together, you are doing two shifts a day, I worked 11 films, 12 films now with Neetu, and those days, you know, I found that she was a person who was going to be a part of my life and it just happened. It happened, but then I wouldn't propose to her, you know, and then my elder sister, knowing that I am not going to do that, she secretly planned our engagement here in Delhi. I had actually come here for somebody else's engagement, and she quietly called for Neetu and her mother, my mother-in-law. She quietly called for them, and of course having my parents in confidence and everything, immediately made me sit in someone else's engagement and got me engaged
NDTV:
There's a romance of the romantic hero
Rishi Kapoor:
And then of course the rest is history
NDTV:
And so many years and
Do Dooni Chaar
, I mean that was also, I mean, I think there was a certain romance in that as well, a very different kind, but a romance of a couple bringing up their children, somehow still working together
Rishi Kapoor:
First of all, it was very sporting and good of Neetu to do the role. She wouldn't have done it, in the sense that, you know, today's acting life is a very disciplined life, very systematic life, and if Neetu had been disconnected, this over 30 years, so you don't want to come back to it again. You are more relaxed now. You are a Mother and Grandmother now and then you don't want to work on a certain time schedule. So probably Neetu had resigned into the fact that she doesn't want to work in films, but when this film was narrated, obviously the film first had Neetu in mind, but I was quite sure she wouldn't do it. So I told the director, Habeeb Faizal, that it's not going to work. So we cut the story short, we went elsewhere, but I came back and I explained to her that it's a very good subject, hear it. I mean, you don't have much of responsibility right now. Ranbir, is on his own, your daughter is married. You know, I gave her all that so she was like, I am not going to do, but I will hear it. She said, I will hear it in 15 minutes whatsoever. We have an outhouse in the house by the garden, so she was hearing the subject and I said let's see what happens. She kept listening the subject till one hour. So obviously it meant that she might have liked it. And then she came out and told me yes, I am going to do this picture. So we rejoiced. But then you know the first day she had problems. Neetu had problems doing the role. And I understood, you know, she has been disconnected. Then I asked her what are you doing? What's happening? She said, I can't remember the lines. I said why? She said because I don't have my glasses and I don't want to tell people I wear glasses. I said learn them, so that was the only hitch. So it's like once you learn how to ride a bicycle, and if you ride it after a long time, you will know how to ride it, if you know how to swim or ride a bike. So for Neetu it was just that, you know, she immediately connected and she was absolutely fine.

NDTV:
When the first time you all faced each other again after so many years on screen you didn't burst out laughing or anything?
Rishi Kapoor:
No, no. That we do all in our lives, daily lives also. So it's no problem at all.
NDTV:
Well I have some questions, as we are near at the end of the show, from Mumbai. Let's hear what these people from Mumbai have to ask you
Question:
I would just like to know about this. We would request you to please sing just a few lines with us, there are many songs which, you know, you have given hits for the industry, and there are many romantic songs like Pucho na yaar kya hua, jaane bahar kya hua, you know, these kind of songs. But there is a song, which was picturised on you and as well as your son and we would like you to mumble a few words with us, Please do it
NDTV:
You have to mumble a few words
Rishi Kapoor:
I am not a singer
Question1:
Can you please sing it for us
Rishi Kapoor:
Darling I would like to sing it for you but, you know, I will leak out a secret. You know we always make a fool of you people, actually someone else sings for us and we just do the lip-sync. So you sing and I will do the lip-sync. I am an actor I am not a singer.
NDTV:
Well, we let her do that because she mentioned Ranbir and you in that same song. Let's just have a look at both, well Father and Son, on that song
Rishi Kapoor:
Wow
NDTV:
Both of you are superb. Audience can you choose between Rishi ji and Ranbir or it's too tough?
Rishi Kapoor:
I will again let out a secret. There was a time someone wanted us to do an ad with this song, both of us, you know, but for some reason didn't get made and the script was very good, very nice, but you know, Ranbir looks too cool for today's time. Mine is really gross, look at the red heart hanging on and that dress was made of shells you know
NDTV:
That's wonderful, it reminds me of my young days; it was wonderful.
Rishi Kapoor:
Shells. It was so heavy that dress, my God, all shells. It was such a difficult song to do
NDTV:
Ranbir wasn't scared when he knew he had to copy you? It must be a tough job for him
Rishi Kapoor:
No he didn't copy me. The steps are very different but the same song
NDTV:
Yes, but the same song
Rishi Kapoor:
I think the film was called by the same name as well if I am not mistaken
NDTV:
He knew he would step into big shoes there
Rishi Kapoor:
No that ways he is very confident
NDTV:
I am going to ask some of our Delhi audience here, who has been listening, want to ask you some questions and go ahead, you had a question Sir
Question 1:
Hello Sir nice to see you, I want to ask you, RK films have given us so many beautiful films, why the RK films stopped making movies?
Rishi Kapoor:
Well we haven't stopped. The fact remains that we haven't really found probably a good subject to make or whatever. As far as I am concerned I am busy as an actor, but yes, I do stand guilty that we haven't really produced a film for over 10 years now, and well I have no words. I am absolutely mum on that. Whenever and wherever we do have something we will definitely make them
NDTV:
Ranbir said he wants to direct a film under the RK banner
Rishi Kapoor:
Yes he would eventually but I still feel he is too young. He should still experience, be more experienced as an actor, and then take on the mantle of direction. You know, right now at this age it's a little too, but then my Father, his Grandfather was 22 or 21 when he made his first film. Those days were different, these days were different

NDTV:
Okay, we nearly at the end of the show now. This last young boy, at the last.
Question 2:
Sir, all my questions that I wanted to ask have been answered in the show. I watched Agneepath Sir and I was zapped by your performance. Sir, it was amazing. I just wanted to see more of you and more of Kancha cheena and more of Vijay Deena Nath Chauhan and Sir, could you just repeat one dialogue from the movie, anyone that was your favorite, that was yours?
Rishi Kapoor:
I am honest to God, you know, you probably think I am lying, but honest to God, I haven't seen the film also as yet. You know, I have not seen Agneepath yet and I am, because I was busy with this wedding and I have come to Delhi and for some reason besides this. And I don't think, my role is like that, you know, those kind of roles where you know, dialogue bazzi hai and all you know, it's not that kind of a role. It's not that kind of part also and I don't know which line also of mine has worked with the audience. It's a very, it's a very, a natural role. It's a very, what should I say, it's not a, hota hai na ek stylized villain nahi hai. It is not a stylised role. It is not a stylised character. It's a normal character who is evil. His thinking is evil. What he does is very evil.
NDTV:
I think every ...

Rishi Kapoor:
He is not sitting on a throne, not walking in the ravine or scaring people otherwise or torturing people. It's a very natural role, I feel.
NDTV:
I think everyone is talking about that last scene with Hrithik and you, when you do that auction, as it were, of your assistant. Someone tweeted me today saying Rauf Lala should do that IPL auction
Rishi Kapoor:
Do you know, and rightfully so, censors have watered down those scenes.
NDTV:
Really
Rishi Kapoor:
I have to re-dub those scenes. Those are not the actual dialogue, which I have shot in reality. When this censor had objection, which I agree with, we are abide by the censor. We, whatever they say so. I had to re-dub those scenes. What you are talking about right now, that is the re-dubbed scene.
NDTV:
Was that scene difficult? I mean, you are playing your lines. That scene was bit difficult for you, when you actually have to do that one. Because it was, especially just before you died, the dialogue you gave, when he finally drowns you. I think, that was perhaps the most dialogue in the movie.
Rishi Kapoor:
That dialogue was a little mean dialogue. Yes, It was a mean dialogue.
NDTV:
Did you practiced for or is that scene you found especially difficult? Not I mean, I mean ..
Rishi Kapoor:
You don't practice these things. They just occur to you. They did happen at a time when you, when you working as an actor, it just dawns on you, you know. You do a rehearsal you feel the situation. You feel what, how it would be, of that character, we said it this way. Then you take, you know, the guidance of the director and you know, work it out with him. Sometimes, the director may not like it sometimes he likes it. So, you work in a tandem, you know, with your director. So, it just happens that way. You don't plan. I am not a planned actor. I am not a method actor. I don't have a way to do acting. I just do it the way I am and whether I am good or bad, but that is the way I do my craft. I believe in that kind of work. So, I don't have kind of, you know, though about, I have not studied my acting. I have not studied my character. I never, I don't know. Don't know those things.
NDTV:
You didn't watch any other villains or try to listen at all?
Rishi Kapoor:
No, what for what for? Whatever for? It's just whatever you have seen in your life. It may be have been in your memory and sometimes you take it from your memory bank and then you, you know, you put it across in your into the character, and then you convey it in your way, in whichever manner you should feel. So, that is how you do.
NDTV:
Well, we have got all these young girls and it is interesting, despite the across generations, you have got now with Rauf Lala and all, you've got fans across generations. Go ahead, you want to ask something, go ahead.
Question 3:
Okay so, I like to ask you ..
NDTV:
Okay, I'll come to you also. Okay, Go ahead.
Rishi Kapoor:
You like to, what take me on a date?
Girl:
I wish I could
NDTV:
Now, she is blushing.
Rishi Kapoor:
That was the idea
NDTV:
Okay, final question, final thing
Question 4:
I want to sing a song for you please, and I want to inform you that I got my first singing song for this song. Okay. The song is
SINGS:
Chehra hai ya
...
Rishi Kapoor:
Very Nice. This is from the film Sagar and I was wooing Dimple in the film.
NDTV:
Well, we are finally at the end of the show. So, let us end with the best of some of the Rishi Kapoor scenes, songs. Songs, because, you know, so many of you, how you danced around those trees, danced on the disco floors, danced everywhere. And..
DANCE