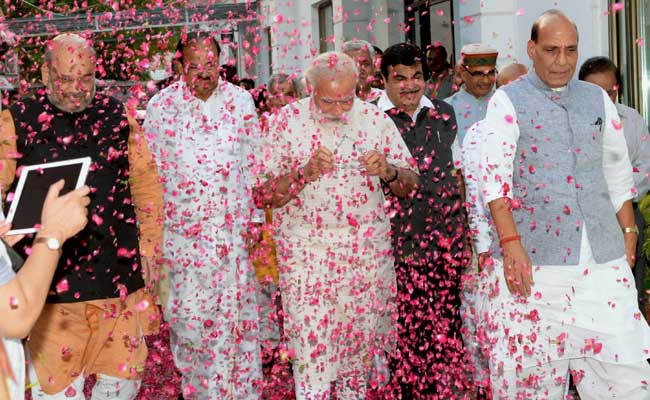 Highlights
New UP Chief Minister will take oath in Lucknow on Sunday
PM Modi expected to attend event
Minister Manoj Sinha, a chief ministerial probable, says 'not in race'
Lucknow:
The BJP is prepped for a gala oath ceremony for the new Uttar Pradesh chief minister, likely to be sworn in now on Sunday, March 19. It will be held at the sprawling Smriti Upvan complex near the Ambedkar memorial in Lucknow built by Bahujan Samaj Party's Mayawati, steamrolled by the BJP in this year's assembly election. The event is billed as a massive show of strength, the guest lists are drawn and Prime Minister Narendra Modi's attendance is confirmed. Now, for a name.
There is still no clarity on who the new UP Chief Minister will be. The buzz around home minister Rajnath Singh returning to his home state is petering out. Of the front-runners till last night, union minister Manoj Sinha said this morning, "I am not in the race." BJP chief Amit Shah seemed to cancel the other probable, state BJP chief Keshav Prasad Maurya when he said on Thursday, "the party will endorse its state unit president's choice".
BJP sources say a surprise announcement could be coming. They said PM Modi and Mr Shah are likely to meet later today to take a final decision.
Keshav Maurya said today, "We will hold a meeting of party legislators on Saturday and the oath will happen on Sunday. We will decide on the CM candidate by tomorrow 4 pm."
It's been a week since election results in five states were announced and the BJP's delay in naming a chief minister for UP is in deep contrast with the swiftness with which it acted in Goa and Manipur, states where it is not even the largest party, but has managed to install its chief ministers. In Goa, Chief Minister Manohar Parrikar has already won a trust vote.
But in UP, where the BJP posted one of its most important wins ever and got a landslide mandate, it is still scouting for the right person to lead the state. In Uttarakhand, where the BJP swept the elections too, the announcement of Trivendra Singh Rawat as Chief Minister came only today.
"Congress was blamed for being late in deciding its Leader (in Goa). BJP yet to decide leader in UP and Uttarakhand. Results came on 11th evening," tweeted the Congress' Digvijaya Singh, who has charge of Goa and could not install a Congress government in the state despite his party winning the most seats. The BJP moved first to secure the support of regional parties and Independents.
Choosing the right person for UP chief minister is crucial to PM Modi's plan to win a second term at the Centre in 2019. PM Modi and Amit Shah, sources said, want someone who will be acceptable to all the different social groups and communities that have voted for the BJP, so that the party can retain their loyalty.