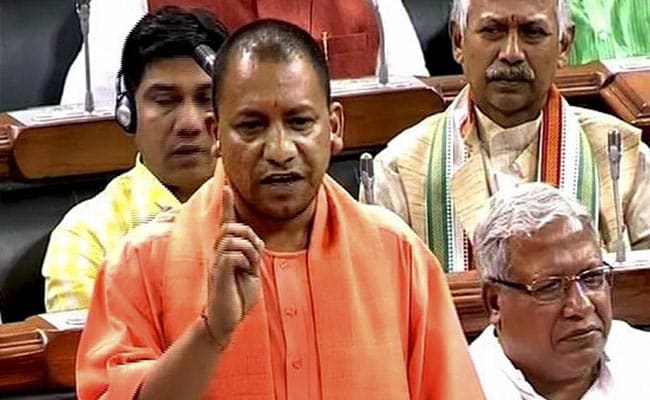 Highlights
Chief Minister Adityanath made a farewell speech in Parliament on Tuesday
He promised to make UP the best state in the country
He also promised to put an end to riots in the state
New Delhi:
Nearly 18 years after he had first entered Lok Sabha as its youngest member in 1998, Uttar Pradesh Chief Minister Yogi Adityanath returned to the House on Tuesday to speak for one last time. But his speech to parliamentarians, the first after taking charge as Chief Minister over the weekend, was aimed as much at Lucknow. In his new role, the Chief Minister promised to deliver a government that would make Uttar Pradesh the best state of the country; "free from corruption, free from riots and free from lawlessness and criminals."
The five-time Lok Sabha member from eastern Uttar Pradesh's Gorakhpur held the region as a model, insisting that he would improve the crime situation in the state just as he had helped improve the law and order situation in Gorakhpur since 1998 when he was first elected to the Lok Sabha.
The assertion came just a day after 44-year-old Adityanath, who was named the Chief Minister in a surprise move by the party that won 312 in the 403-seat assembly, took charge. At his first meeting with civil servants, he told the police to "be vigilant" and asked the state's police chief Javeed Ahmed to come up with a blueprint to tackle crime.
The new government is also expected to crack down on illegal slaughterhouses and large, mechanised abattoirs that the party had pledged in its manifesto and a point that BJP chief Amit Shah had stressed during election campaigning. On Monday, Deputy Chief Minister KP Maurya had promised a decision on this issue would be taken "soon". But later Cabinet Mininster Siddharth Nath Singh told NDTV that action would only be taken against illegal slaughterhouses.
In his speech in Parliament, Mr Adityanath did not address the swirling speculation around how far the government would go. But the Chief Minister made it clear that a lot was going to change in the state.
"
Aap dekhte rahiye... Wahan par bahut kuch band hone jaa raha hai
(You keep watching... A lot is going to stop there)," he said.
Promising to put an end to riots in the state, Mr Adityanath who has been seen as the BJP's Hindutva mascot said there hadn't been a riot in Gorakhpur in the last five years though Uttar Pradesh had 403 such incidents.
It is not clear where he got the figure from. According to Home Ministry statistics given to the Lok Sabha in February, there were 450 communal incidents in Uttar Pradesh over the last three years alone.