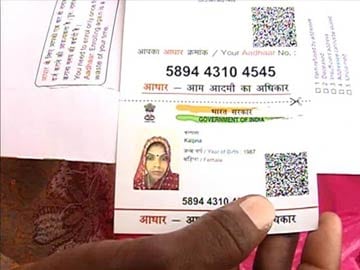 New Delhi:
The Supreme Court today decided to examine a fresh petition making Aadhaar card as proof of identity and address for opening bank accounts and enrollment as a voter.
A bench headed by justice B S Chauhan sought response from the Centre and RBI and tagged the PIL filed by an NGO, Nagrik Chetna Manch, with other petitions which had also challenged making Aadhaar card mandatory for availing social benefits schemes.
The PIL by the NGO said RBI has opened a pandora box of economic offences by removing all safeguards against money laundering on bank accounts opened with Aadhaar as the sole "know-your-customer" (KYC) norm and also because the Election Commission of India has extended the right to franchise to non-citizens by using the Aadhaar, a card that is issued to residents and not citizens, as the proof-of-identity and proof-of-address for enrolling as a voter.
It said Registrar General of India working under the Ministry of Home Affairs has built up a registry of citizens based on an unaudited and unverified database of residents built by private parties and including biometrics that are not part of the rules framed under the Citizenship Act.
"In addition to this, the Centre has linked the increased number of rights, entitlements and benefits to the Aadhaar number and making money transfers into unverified bank accounts created from unverified and unaudited database created by the UIDAI and allowing properties to be linked to Aadhaar numbers," the NGO said in its petition filed through advocate Varnika Sharma.