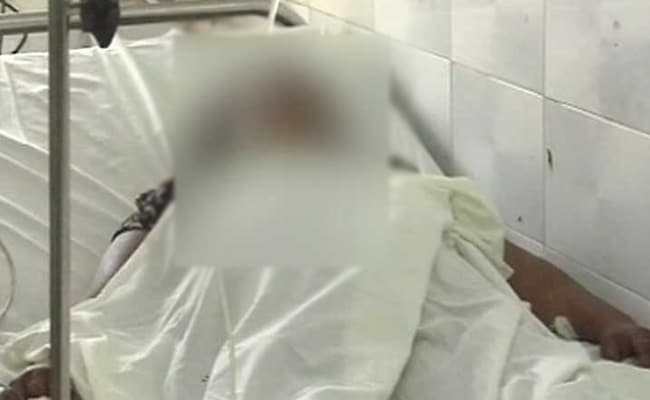 Highlights
Incident allegedly took place near an armed guard at Lucknow hostel
Rape survivor being treated at trauma centre in city's medical university
Given 24-hour protection after multiple acid attacks over past 8 years
Lucknow:
A 35-year-old gang-rape survivor in Uttar Pradesh - given 24-hour police protection after multiple acid attacks over the past few years - was
attacked for the fourth time on Saturday evening
, say the police. The incident allegedly took place at her hostel in Lucknow, just a few steps from an armed guard posted for her protection.
"The guard's room was 20 to 25 steps away from the spot where the incident took place," said UP Minister Rita Bahuguna Joshi, who is in charge of women's welfare.
Chief Minister Yogi Adityanath has, however, raised questions about the incident, according to news agency PTI. He is quoted as telling a private news channel that the hostel "is absolutely safe" and no outsider could get in. "Despite all these, how did this incident take place?" he reportedly said.
"
Ye ghatna sachmuch ghatna hai ya fir ghatna ke naam par kuchh log kewal badnaam karne ki sajish rach rahe hain
(Has this attack really happened or are some people hatching a
conspiracy to defame the state government)," he reportedly told the channel.
PTI quotes an unnamed police officer as saying no one saw the incident or the attackers.
The attack was, however, confirmed by senior Lucknow police officer Abhay Kumar Prasad, who said on Sunday: "She was outside her hostel when someone came and threw acid on her. There are injuries to the right side of her face. The woman is in trauma. We will take strict action."
The woman works at a cafe managed by acid attack survivors.
I
n March this year, two men forced acid down her throat on a train
while she was returning to Lucknow from her village in Rae Bareli. Amid outrage, Yogi Adityanath visited her in hospital and gave her compensation, besides police protection.
Opposition parties have renewed their charge against the government of poor policing. "There is a law and order breakdown in UP. Every day there are instances of harassment, rapes, murders, and exploitation," said Juhi Singh of Samajwadi Party, which lost power in the state earlier this year.
The attacks on the mother of two began in 2009, a year after she was gang-raped in her village. She was attacked with acid in 2011, 2013 and then earlier this year. The woman and her family allege that the rape accused are behind the acid attacks.