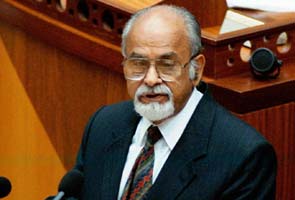 New Delhi:
Former Prime Minister Inder Kumar Gujral died in Gurgaon, on the outskirts of Delhi today. He would have turned 93 on December 4.
"Gujral passed away at 3.31 pm at Medanta Hospital in Gurgaon," Home Minister Sushil Kumar Shinde announced in the Lok Sabha.
Mr Gujral was admitted to hospital on November 19 with a lung infection. (
Read: The legacy of IK Gujral
)
He was on dialysis for over a year and had contracted a serious chest infection some days ago.
Mr Gujral who was prime minister for year between 1996 and 1997, during a turbulent political time for the country. He succeeded H D Deve Gowda as Prime Minister after the Congress withdrew support to the United Front government and remained at the Congress' mercy till his own government fell.
Mr Gujral was best known for his Gujral Doctrine, which proposed closer ties with India and her neighbour. He also opened dialogue with Pakistan despite its prickly attitude towards India. Mr Gujral was also foreign minister twice.
A special cabinet meeting has been convened this evening to pay homage to Mr Gujral.
(With inputs from PTI)