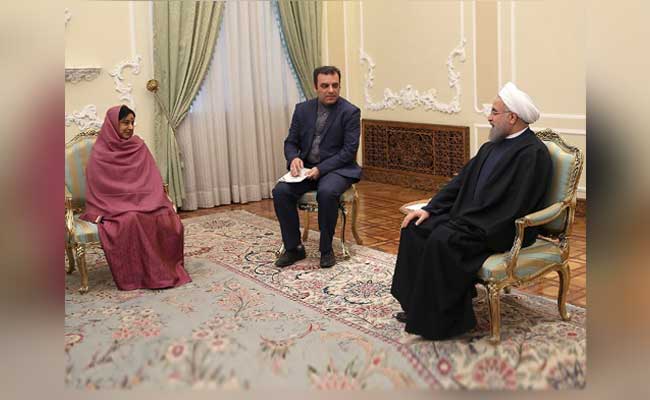 Highlights
Accused of 'appeasement', Ms Swaraj criticised for covered up 'Iran look'
Minister seen in pink sari and pink shawl covering her head entirely
In Iran, the law requires all women to cover up
New Delhi:
Foreign Minister Sushma Swaraj's look in Iran - draped in pink from head to toe - has been extensively critiqued online.
Images of Ms Swaraj in a pink sari and matching shawl at a meeting with Iranian President Hassan Rouhani have gone viral and fed a debate on whether she was right to cover her head.
Comments ranged from lacerating to mildly disapproving to supportive.
An uncharitable tweet said the minister "is wearing a pink potato sack", but it has since been deleted.
@TarekFatah@SushmaSwaraj yes. MEA is supposed to represent India and Indian culture. Will HE Iranian President wear Indian dress in India?

— Kailash Wagh (@kailashwg) April 17, 2016
I didn't know Sushma Swaraj went to Iran to fight Ayatollah's dress code and reform the country

— Sona (@sona2905) April 17, 2016
Many condemned the preoccupation with the minister's sartorial sense at a time important strategic moves were being made.
People bashing Sushma Swaraj for her 'Islamic dress' during Iran visit. And it is so unfair https://t.co/MLWMwoVwoy

— My PM Narendra Modi (@NaMo4PM) April 18, 2016
In Iran, the law requires all women to cover up. Some women dignitaries have tried to resist it, though without success.
Reports say Italy's Emma Bonino, the EU Foreign minister, was forced to wear a headscarf in 2014 after she landed in Tehran. The Iranian Chief of Protocol reportedly came to the tarmac with three headscarves for her, which she first refused. She hastily grabbed one when Iran reportedly threatened to cancel her visit.
Australian foreign minister Julie Bishop also wore a headscarf in Iran a year ago. Some conservative media outlets still complained that she had not "completely complied with
hijab
requirements". Ms Bishop responded to the criticism saying: "This is our first visit to Iran in 12 years and I do not want to make it our last."