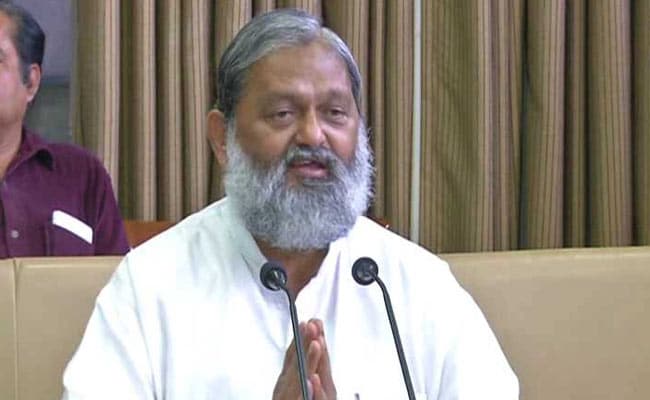 Chandigarh:
The "foreign habit" of handshake was responsible for the spread of hundreds of diseases, including swine flu, and to stay healthy, Indians must opt for the very desi greeting "Namaste", Haryana health minister Anil Vij said today.

"You've had a bath, then you go and shake someone's dirty hand, and then all day you keep spreading that dirt to a hundreds of people and so on, which is why we have to rid ourselves of this foreign habit," Mr Vij told the Haryana assembly.
Underscoring the importance of keeping away from physical contact, he said, "Whether you say 'Namaste,' or 'Sat Sri Akal,' or 'Allahu Akbar,' or 'God is Great,' say it with folded hands," he said.

Swine flu, a viral disease, spreads through air and human to human contact. The disease has claimed nearly 1500 lives so far and affected 26,000 people. Of them, Haryana has seen over 250 cases and 27 deaths, the minister told the assembly. And the reason, he said, was the state government's high level of preparedness for the disease.

While the minister's prescription for preventing the disease raised raucous laughter in the assembly, it was poles apart from West Bengal Chief Minister Mamata Banerjee's recent diagnosis: That the disease spreads through mosquito bite.

"You all know it is nowadays a free earth, all human beings are travelling from here to there, it mostly happens from mosquito bites and various other reasons," Ms Banerjee told bemused journalists last month.


Still more bizzare was Mumbai Mayor Snehal Ambekar's comment the same day that swine flu was a heart disease and that it could be checked by planting more trees.
"Swine flu is a heart disease... Hence, BMC will plant trees, develop gardens and parks to check swine flu," Ms Ambekar told reporters.
Mr Vij's suggestion today met with enthusiastic support - the entire house raised hands, including Chief Minister ML Khattar, with whom he patched up recently. Last month, reportedly upset over Mr Khattar's directly dealing with his ministries, Mr Vij had posted a series of sarcastic tweets - the matter ended after a senior BJP leader stepped in.