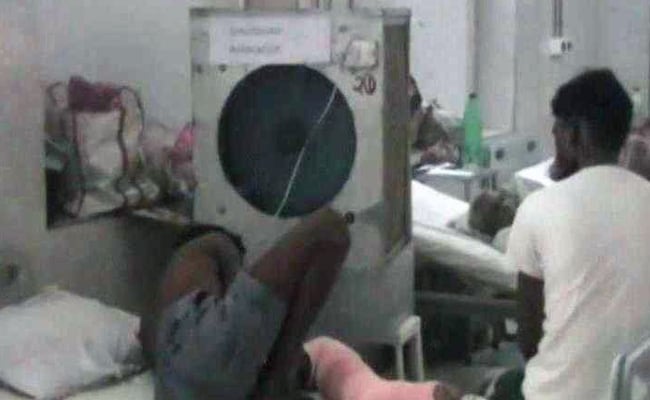 Highlights
Around 20 coolers reportedly hired for his visit to Allahabad hospital
After he left the hospital, coolers were taken away in rickshaws
Yogi Adityanath had told officials not to make any special arrangements
Allahabad:
Less than 24 hours after Uttar Pradesh Chief Minister
Yogi Adityanath directed his officials not to make any special arrangements for his visits
, a government hospital in Allahabad appears to have "defied" the order by arranging insta-cooling for his tour of a ward.
Around 20 air coolers were reportedly hired for the Chief Minister's visit to the Swaroop Rani Nehru hospital in Allahabad on Sunday. Yogi Adityanath inspected the bone disease department, and for patients there, it meant a break - however fleeting - from the oppressive heat.
Right after the chief minister left, however, the coolers were gone. The sight of the coolers being carted away in rickshaws was caught on camera by a local photographer.
Inquiries by journalists revealed that the air coolers were hired from a local tent house.
"Because he came, we got air coolers for a bit and we could relax. The coolers came in on Saturday. It must have been to please Yogi Adityanath," said Ajay Singh, the relative of a patient.
Mr Singh said in the extreme heat, air coolers are "not a luxury but a necessity".
"We have about 75 to 80 coolers in the hospital. They are deployed in wards. Yesterday, just one or two coolers were not working and the technician in-charge of making arrangements for the chief minister's visit offered to replace them. So we said yes. It is not true that we brought in over 20 coolers. I don't know what the patients are saying, really, but it is not true," said Dr Karunakar Dwivedi, Chief Medical Superintendent of the Hospital.
Which begs the question - why isn't there proper cooling in a hospital in peak summer, when the temperature is often over 45 degrees?
And why were coolers hired only when the Chief Minister was visiting?
Allahabad's district magistrate Sanjay Kumar told NDTV that an inquiry has been ordered.
On Saturday, the chief minister forbade his administration from making any special arrangements for his visits saying, "We are people used to sitting on the ground...The chief minister deserves respect only if the people of the state feel respected."
Last month, when Yogi Adityanath visited the family of Prem Sagar -- a Border Security Force man who was murdered and mutilated in Jammu and Kashmir -- the administration installed an air-conditioner, rolled out a carpet, placed a sofa and spread saffron-coloured towels. All of it was taken away the moment he left, the family said.