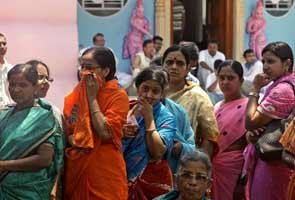 Puttaparthi:
The end came on the morning of Easter Sunday. After almost a month in the ICU, spiritual leader Sathya Sai Baba passed away due to cardio-respiratory failure in the super speciality hospital he helped to set up in his home town of Puttaparthi.
Security was heightened in anticipation of the VIP visitors - but also for the influx of devotees expected here to pay their last respects to the man who brought not only international fame to Puttaparthi - but also drinking water, world class medical care and institutes of higher education.
While the public was kept away from the hospital itself - there was a stream of VIPs - including Andhra Pradesh's chief minister Kiran Kumar Reddy and Governor ESL Narasimhan and Chandrababu Naidu. More high-profile visitors are expected over the next three days of state mourning culminating in the funeral on Wednesday.
Special arrangements have been made to bring in his followers to allow them to pay their last respects as the body of Sathya Sai Baba lies in state at the Prashanti Nilayam ashram that was his home.