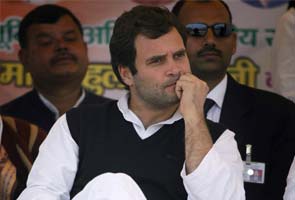 New Delhi:
While there's still a giant haze over when Rahul Gandhi will get a larger designation within the Congress, he has been named the head of the coordination committee in charge of the Lok Sabha elections.
Other members on this panel which will steer the party for the general elections, as the Congress asks voters for a third term in power, are party spokesperson Janardhan Dwivedi, Madhusudan Mistry, Ahmed Patel, and Digivjaya Singh who worked closely with Mr Gandhi for the UP elections held earlier this year. The Congress placed an embarrassing fourth in the state despite an extensive star turn by Mr Gandhi as its leading campaigner.
The fact that Mr Gandhi will head this committee indicates the increasing influence he will have on the Congress as it preps for 2014.
There's new talk in the Congress over what sort of title he may take now. Sources say that contrary to speculation over the last few weeks, "Working President" is not a likely designation for the 42-year-old. Instead, the 127-year- old party is considering amending its constitution to create the office of Secretary General as a suitable berth for Mr Gandhi.
Mr Gandhi is currently one of 18 general secretaries for the Congress, and has been promising to accept his party's demand for a larger role since July.
There was a slim chance that he would finally accept the prime minister's repeated invitations to join his cabinet. But he sat out last month's cabinet reshuffle, watching as many of his alleged nominees were sworn into the council of ministers. Since then, senior Congress leaders have said that Mr Gandhi is "already No 2" in the party, adding that a formal change in role is not being considered an exigency.
But some of the party's senior-most managers are working on just that, say sources. To create the role of Secretary General, one said, "There is a provision within our constitution where the Congress President has overriding powers to change the constitution.'' Should Mr Gandhi be inclined to accept this role, his mother could introduce the position and it would later be ratified by the party's senior-most leaders who serve on the Congress Working Committee.
Sources also explain why a Secretary General designation is preferable to that of Working President. The tag of being a Working President is not really apt, as it would have connotations that the real President isn't working,'' said one senior leader. The party has been emphasizing that recent health issues have not impacted Mrs Gandhi's role in running the Congress, and its members are reluctant to make any move that could signal differently.
There's also the fact that Mrs Gandhi and the Prime Minister, while serving as power centres, enjoy a good rapport and have created well-defined areas of influence. Adding a Working President to the mix might be seen as tilting the balance of power towards the party and away from the government.
The option of Vice President, held in the past by Congressmen like Arjun Singh and Jitendra Prasad, also carry major baggage within the Congress Party. "When Sonia Gandhi became President in 1998, she indicated she didn't want these posts,'' said one senior leader. They said that it was probably because the takeover from Sitaram Kesri was in less than cordial circumstances and Sonia didn't want to continue with any precedent installed by Team Kesri.