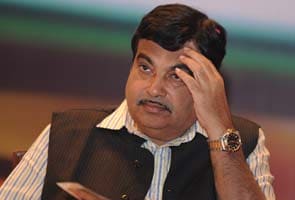 Mumbai:
The journey of BJP president Nitin Gadkari towards an unprecedented second term has run into trouble, with the Income Tax department scaling up its investigation into alleged malpractices by a business empire he helped found in 2000.
Till yesterday, Mr Gadkari appeared close to being re-nominated by his party on Wednesday for president.
But a notice summoning him for questioning by income tax officials this week may have muddied his chances. He has asked to be excused till February 1, by which time his political future will have been decided by his party. While senior colleagues like LK Advani believe that the allegations of corruption against the president will dent their credibility ahead of next year's general elections, the BJP's ideological mentor, the RSS, has said it will support only Mr Gadkari for president, though latest developments could prompt a review of that decision.
Income tax officials are conducting what sources describe as "a field inquiry" at eight different location sin Mumbai that are linked to the Purti Group. Mr Gadkari resigned as its chairman in 2010.
Today's visits by tax officials are reportedly an extension of earlier attempts to check out the financial track record and credentials of Purti and its investor companies.
In October last year, a series of reports exposed that those investor firms shared addresses and directors, suggesting they were a front. In some cases, the addresses listed for investors were of Mumbai tenements where no offices exist.
The Income Tax department reportedly wants to meet with Mr Gadkari to question him about documents it has exhumed during its probe.