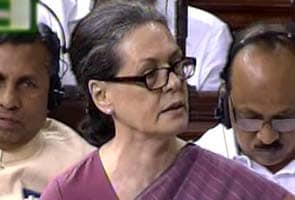 New Delhi:
In a rare speech to Parliament today, Congress president Sonia Gandhi urged lawmakers to unanimously clear her party's flagship welfare scheme to provide cheap food to nearly 70% of India, a plan that will cost India Rs. 1.25 lakh crores or 22 billion dollars.
"There are people who ask whether we have the means to implement this scheme. I would like to say that we have to figure out the means. The question is not whether we can do it or not. We have to do it," she said, addressing the criticism of the impact of the expensive scheme on government finances at a time when economic growth is declining.
Speaking first in Hindi and then in English, she described the welfare scheme as part of an "empowerment revolution" and reached out to the opposition, which has flagged a series of shortcomings with the scheme. "This legislation is only the beginning," she said, "we will be open to constructive suggestions, we will learn from experience, but we must put aside our differences."
After days of unruly scenes in parliament, the MPs finally agreed today to debate the Food Security Bill, which has been ardently championed by Mrs Gandhi and is being seen as the centerpiece of her party's campaign to win a third term in elections due by May 2014.
The government used special constitutional powers to introduce the scheme as an ordinance in July but it will lapse if it is not passed in this session of parliament, which ends on September 6.
The Congress won the last two elections on the back of populist programmes such as a rural jobs plan and a huge farmer loan waiver scheme passed just before the 2009 general election.
The Congress president acknowledged that the notoriously leaky public distribution system which delivers subsidised kerosene, cooking gas, and more to those below the poverty line needs correction.