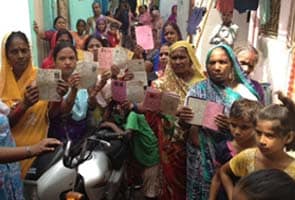 New Delhi:
The government's game changer, the National Food Security Bill, is one step closer to reality.
Yet, for many here in Delhi's Trilokpuri area, who will be directly impacted by the new law, there's little information on what it means.
Pyare Khan, a senior citizen, receives Rs 600 per month as part of the Delhi government's Annashree Yojana - a direct benefit scheme that gives cash to poor families that have no Below Poverty Line (BPL) or Above Poverty line (APL) card. He says, "I have heard a card will be made, when it will be made, we don't know. What I want to know is if I will be included in the scheme this time."
Mithilesh Devi, who has been living in Trilokpuri for close to two decades holds an APL card, but is equally apprehensive. "When I don't get any ration right now, what will I do with more details on this scheme?" she asks.
Delhi is among the first few states to launch the scheme and hopes to start implementing it from September 1. It's expected to cover 14 lakh households in two phases. Though the idea of cheap ration is welcome, there are many questions over how this will be implemented.
When we visited the area, many residents told us that the current ration for BPL card holders is insufficient to feed their families. Even with the current entitlement of about 35 kilogram per month per household, they often end up buying grains from the open market at market rates. With the new law moving from subsidised food per family to subsidised food per person some are worried.
Seema told us, "There are 10 family members, but the names of only five members figure on the ration card. Adding new names is a big hassle. How will we manage in just five kilogram? Since the ration card doesn't have all names, we will be forced to buy from the market."
Bindu, meanwhile, is worried that with her small family of just four members, her entitlement under the food security scheme will fall from the current 35 kilogram she gets to 20 kilogram per month.
Many have welcomed the introduction of women as the head of the family, though it seems the timing of the legislation is not lost on anyone. As one woman puts it, "When there is an election around the corner, only then do politicians sway towards the poor. After that they show no recognition."
The bigger worry perhaps is of misinformation. Kauser Jahan told us her biggest problem with the new scheme was her entitlement of just one kilogram of rice, compared to 10 kilogram she got earlier. When we corrected her saying the law provides for five kilogram of rice per person (not just one kilogram), she said, "The ration wala told us we will get one kilogram rice and five kilogram wheat. He said the new scheme will give one kilogram of rice per person."
Most families in Ambedkar camp in Trilokpuri have just one bread winner who barely makes Rs 200 a day with large families to feed.
And herein lies the biggest concern. The scheme, meant to provide subsidised food to 67 per cent of the country's population, will need detailed oversight to ensure that those in the chain do not exploit the naivety of India's poorest and most needy beneficiaries.