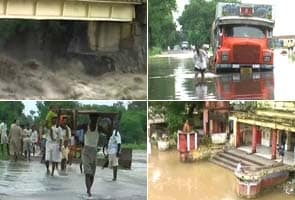 Almora/Moradabad:
Uttarakhand has seen its worst flood in years. Major rivers in the state are flowing above the danger mark and in the last four days, 42 people have died due to rain-related incidents.
Among the worst hit are some of popular resorts around the Corbett National Park and the districts of Almora, Chamauli, Uttarkashi and Nainital.
Twenty five homes were washed away and many tourist resorts near the park were damaged due to incessant rain. Work is on to rescue those trapped.
Senior BJP leader Sushma Swaraj has called up the Prime Minister to discuss the situation and told him of the impending threat from the Tehri dam.
Power and communication lines have also snapped. The state government has ordered schools to be shut till Tuesday.
"I have never seen such alarming water levels in this river," said a local.
All major rivers - the Ramaganga, Sharda and Kosi - are flowing above the danger mark.
On Saturday evening, 1 lakh cusecs of water was released from Kalagarh dam. Within hours, it reached Moradabad in Uttar Pradesh flooding a kilometre of National highway 24 that links Delhi with Lucknow.
"We have been standing here since 10 last night. We don't know how long it will take," said Bhim Singh, a truck driver.
"We are making all possible arrangements, motor boats are also being arranged for," said Rajnish Rai, ADM, Moradabad.
Flood waters are threatening to affect the Rohilkhand area of western UP; parts of Rampur, Pilibhit and Bijnor have already been flooded.