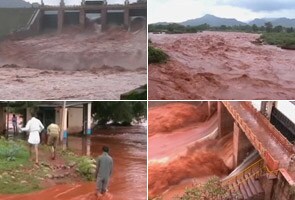 Bellary:
A flood alert has been issued for north and coastal areas in Karnataka after persistent rain over the last few days.
At least 10 people have been killed in rain-related incidents over the last one week and some houses have also collapsed. Hundreds of acres of crops have been damaged and road connectivity is badly hit.
As per preliminary estimates, total loss due to rains has been put at Rs 180 crore including crops loss in 25,545 acres to the tune of Rs 12.83 crore, the officials said.
The number of houses that have been damaged has risen to 7,798 including 3,562 in Bidar followed by Gadag (670) and Gulbarga (639).
Arrangements have been made to open relief centres for people affected. Authorities in rain battered districts have been directed to be on alert to meet any situation, officials said.
With dams in north Karnataka full, water is being released from them which in itself can pose a challenge. But that's not all, the bad news is that the heavy rain is likely to continue over the next couple of days.
(
With PTI inputs
)
Get Breaking news, live coverage, and Latest News from India and around the world on NDTV.com. Catch all the Live TV action on NDTV 24x7 and NDTV India. Like us on Facebook or follow us on Twitter and Instagram for latest news and live news updates.