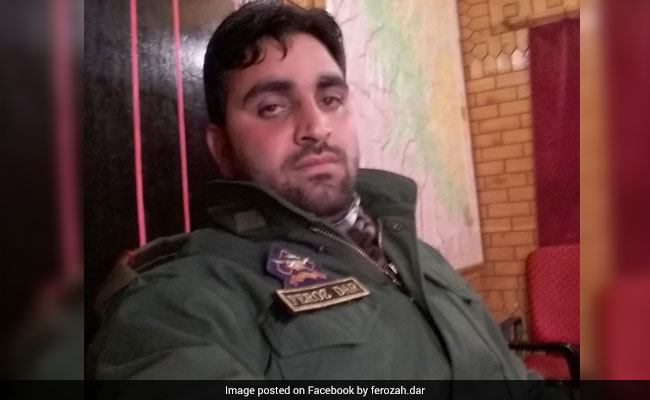 Highlights
Feroz Ahmed Dar posted a moving poem 4 years back on his Facebook page
'Imagine yourself in your grave, down there in that dark hole, Alone'
Dar was killed in an ambush by Lashkar terrorists along with 5 policemen
Srinagar:
Gunned down by terrorists in south Kashmir's bloody ambush last evening that killed six policemen, Feroz Ahmed Dar's body with bullet holes
was lowered into the family's ancestral graveyard
in his village 50 km from where he was killed.
It is a moment the 32-year-old Kashmiri police officer had thought about a little over four years back, 53 months to be precise. That is when he posted a poem on Facebook: 'First Night In The Grave'.
"Did you ever stop for a while and asked yourself, what is going to happen to me the first night in my grave?.. Just imagine ...yourself in your grave, down there in that dark hole, Alone," the young police officer wrote in the 143-word poem on Facebook.
It was also Jammu and Kashmir Sub Inspector's prayer that ended with asking Allah to "protect us all from the punishment of the grave". It had kept the police officer safe for four years and five months.
On Friday evening, Dar and five policemen patrolling in Achabal locality of Anantnag district were attacked by about 10-15 heavily-armed terrorists. The terrorists, after the ambush was over, got into the police vehicle and sprayed bullets at the policemen from point-blank range to disfigure their faces.
The barbaric attack has drawn widespread condemnation.
Defence Minister Arun Jaitley called it an act of cowardice
while the state police chief SP Vaid pledged to track down the Lashkar-e-Taiba terrorists.
At Pulwama district's Dogripora village, a Press Trust of India report said, his two daughters, Addah, 6, and Simran, 2, - whose photographs Dar would often upload on his Facebook page - appeared bewildered at the sudden rush of people at their house. His wife Mubeena Akthar and aged parents wailed and beat their chests, trying to come to terms with the loss.
Nicknamed
Dabang
(daring) by his friends and a "one-man army", Dar had wished earnestly for the situation in Kashmir to return to normal.
He fought, and laid down his life for it.
"Oh God! When will be the day we see normal Kashmir," he wrote, months later in his poem.
Deputy inspector general of police (south Kashmir) Swayam Prakash Pani also turned to Facebook to pay his tributes to Dar, calling him an officer who everybody loved.
"This inhuman act will be punished and punished suitably,"
he pledged.
(With inputs from PTI)