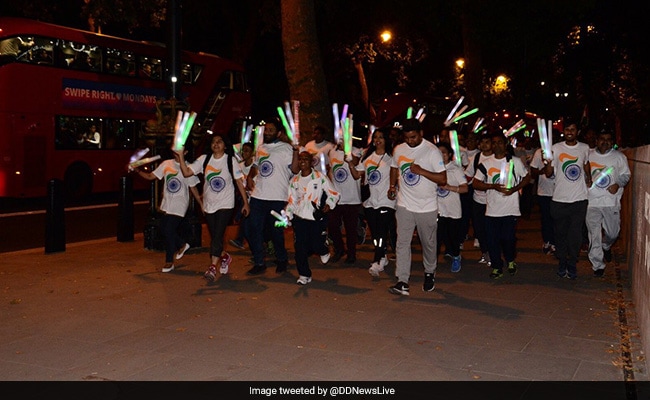 Highlights
Freedom Runners chanted slogans like "Jai Hind" and "Vande Mataram"
They ran past iconic London monuments including Big Ben and London Eye
The event was organised by the Indian High Commission in London
London:
Hundreds of members of the Indian diaspora in the UK took part in the first-ever Freedom Run to mark India's 70th Independence Day with the one-mile journey beginning from the historic Parliament Square in London.
The runners, sporting 'India@70' T-shirts and waving tricolour glow sticks, kick-started a one-mile journey from the statue of Mahatma Gandhi at the historic square in the heart of the British capital to India Place at the Indian High Commission in London.
Just after midnight, the Indian High Commissioner to the UK, Y K Sinha, addressed the gathering as tea and samosas were served to all participants. "We started at Mahatma Gandhi's statue at Parliament Square and have come over a mile to India House to commemorate this historic occasion - 70 years of Indian independence... we celebrate the massive achievements and great strides that India has made in the last seven decades," Mr Sinha said.
"We wanted to do something symbolic and different to mark this milestone. And, what could be more symbolic than a run from Parliament Square opposite Big Ben to the Indian High Commission with such a large crowd of enthusiastic Indians," he said, adding that the 'Freedom Run' symbolises India's fight for "freedom from corruption and freedom from poverty".
The group of Freedom Runners chanted slogans of "Jai Hind", "Bharat Mata Ki Jai" and "Vande Mataram" as they made their way past iconic London monuments including the Big Ben, London Eye, Scotland Yard headquarters and Waterloo Bridge.
"It is the symbolism of starting at the seat of British democracy before midnight and culminating at India Place after midnight," added Dinesh K Patnaik, the deputy Indian high commissioner of India to the UK.
The event, organised by the Indian High Commission in London, was aimed at bringing together the Indian community from across Britain to commemorate the 70th anniversary of Indian independence and is likely to become an annual feature to mark Independence Day.