Highlights
40 constituencies in Uttar Pradesh, 22 in Manipur vote today
Varanasi in Uttar Pradesh and Thoubal in Manipur in prime focus
Counting of votes for these Assembly polls scheduled for March 11
Lucknow/Imphal:
Uttar Pradesh and Manipur are revved up for the final phase of polling covering 40 and 22 seats respectively. All eyes are on the Prime Minister's Lok Sabha constituency Varanasi in UP. In Manipur, attention is on Chief Minister Okram Ibobi Singh who is in a three-cornered contest featuring People's Resurgence and Justice Alliance (PRAJA) nominee Irom Sharmila and Bharatiya Janata Party's Leitanthem Basanta Singh. Security has been beefed up in both the states ahead of these polls.
Yesterday, Manipur was hit by a bomb blast that left two persons wounded. "Helicopters were used to airlift polling officials, security personnel for the hard-to-access polling stations in the hill areas," said state Chief Electoral Officer Vivek Kumar Dewangan.
In Uttar Pradesh, Naxal-affected districts of Sonbhadra, Mirzapur and Chandauli, along with the five Assembly segments under Varanasi Lok Sabha constituency, will be in prime focus. Ghazipur, Jaunpur and Bhadoi are the other districts going to polls in this phase. Tight security has been put in place in these seven districts.
Counting of votes polled in the Assembly polls will be done on March 11. Polling began at 7 am and will continue till 5 pm in all constituencies, except the Naxal-hit Duddhi, Robertsganj and Chakia seats in Uttar Pradesh, where polling will end at 4 pm.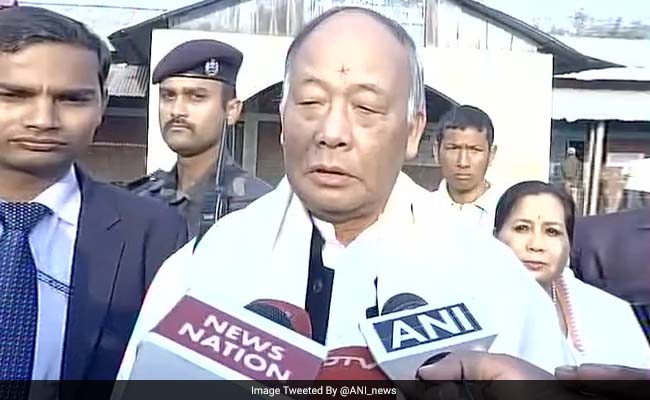 A total of 1.41 crore voters, including 64.76 lakh women are expected to vote in 14,458 polling booths in UP and an electorate of over 7.59 lakh is eligible to make their democratic choice from among 98 candidates in 1,151 polling stations in Manipur.
The BJP is contesting 32 seats and its allies the Apna Dal and the Suheldev Bharatiya Samaj Party are contesting on 4 seats each. The BSP has fielded its nominees for all seats. While the SP is contesting 31 seats, its ally the Congress is in race for the remaining seats.
Thoubal is the most keenly watched seat in Manipur where BJP is eyeing the 10 seats. It has been three-time Chief Minister Okram Ibobi Singh's bastion for the last 15 years.
(With inputs from IANS and PTI)