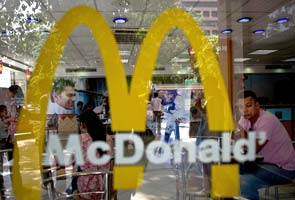 New Delhi:
Initiating the debate in the Lok Sabha on Foreign Direct Investment or FDI in multi-brand retail, the leader of opposition in the Lok Sabha, Sushma Swaraj, said the government's claim that foreign investment would benefit farmers, consumers and generate employment was a myth.
Taking on the sourcing policies of international food chains Ms Swaraj said, "Ask McDonald's about their fries. They never buy potatoes from local Indian farmers, saying the potatoes are too small here."
She also cited Punjab's example saying PepsiCo promised to buy potatoes and tomatoes from farmers, but backed out later.
Countering the government's claim that FDI will increase employment, she said: "Government says that FDI will generate employment for 40 lakh people. But going by figures if we have to employ so many people, then all companies like Wal-Mart, Tesco and others coming to India need to open over 36,000 stores in 53 cities, which means over 600 stores in each city."
McDonald's which runs over 250 outlets in India says they "import only on rare occasions when local supplies run out."
In a statement released to the press, Vikram Bakshi, Managing Director, McDonald's India (North & East) said, "Before setting up its business in India, McDonald's had made a commitment to Government on local sourcing of its entire raw material requirement. We confidently and proudly state that ingredients used in our products are sourced locally that includes the French Fries." (
Read McDonald's full statement
)
"We, along with our supplier, McCain, have worked closely with farmers in India to produce process-grade potato varieties. We continue to contribute in the growth of these farmers. McDonald's remains steadfast to its commitment of working with local suppliers and farmers to source all its requirements in India," the statement added.
PepsiCo have also refuted the claims made by Ms Swaraj. In a press release, the company says that all potatoes are procured from within India and in fact, they are the largest procurer of potatoes in the country.
"PepsiCo India sources all its potato requirement from within the country. We are the largest procurer of potato in India and procured 240,000 metric tonnes of potato from Indian farmers in 2012 which is more than double of what we procured five years ago," the statement said.
"PepsiCo India has established a model of partnership with farmers and now works with over 24,000 happy farmers across nine states. Some of the key states include West Bengal, Punjab, Gujarat, UP, Maharashtra, Karnataka and Bihar. We have also set up a state of the art potato seed facility in Punjab and all the seed that we provide to farmers across the country is grown by Punjab and Haryana farmers," the statement added. (
Read PepsiCo's full statement
)