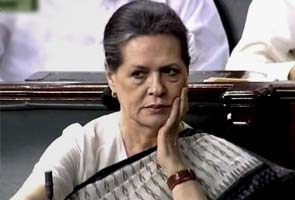 New Delhi:
At a meeting with all MPs from her party, Sonia Gandhi delivered a forceful message -she asked her party to "expose the Opposition's double-speak" and to "defend and project the government's achievements."
Mrs Gandhi, who is the Congress President, said, "It seems to be almost fashionable these days to criticise the government. We must not allow this to deflect us. We must speak forcefully and with confidence on what we have achieved and there is much we have to show despite difficult economic times." (
Read full speech
)
Asking her partymen to draw lessons from the previous polls, she said,
"Wemust all shed all manner of factional behaviour, and
fight asone disciplined team at all levels. That will be the
single-mostimportant factor to decide whether we win or lose."
Mrs Gandhi's meeting follows her party's disastrous performance in the elections held just a few months ago in states like Uttar Pradesh, where the post-mortem has revealed discord between local leaders and those assigned in Delhi to manage the election.
Key states like Karnataka and Gujarat will vote later this year, in what will be seen as a test of voter mood ahead of the general election in 2014. The President of India will also be selected in July - that election is being prepped for carefully with Mrs Gandhi ensuring that the Congress consults its allies for their preference for who the UPA should field as its candidate.
Mrs Gandhi also made it clear today that her party is committed to protecting the spirit of federalism. She said that the UPA will work closely with state governments to protect national interest and to fight terrorism.
On these issues, she said, the "centre cannot shirk its responsibility." She added that "trust and cooperation" are essential for centre-state relations. Her emphasis on federalism comes as the government has been attacked by regional parties, including the Congress' key ally Mamata Banerjee, for trying to undermine the autonomy of state governments. At a meeting called by the Prime Minister last weekend, many chief ministers spoke against the proposed National Counter Terrorism Centre or NCTC, a body they have rejected. Ms Banerjee and other heads of state governments said that the police powers given to the NCTC are sweeping and allow its officers to search and arrest terror suspects without keeping local officials in the loop.
Mrs Gandhi praised the union budget presented by Finance Minister Pranab Mukherjee for providing more funding for key social programs but said there is a need to "improve the effectiveness of public expenditure" and eliminate corruption.
The government and the opposition are gearing up for the election for the President of India, to be held in July after Pratibha Patil's term expires. The BJP has said it will not accept any candidate proposed by the Congress, but has found itself isolated over that stand. The Congress is choosing between Finance Minister Pranab Mukherjee and Vice-President Hamid Ansari. Its partners in the UPA coalition -the DMK from the South and Sharad Pawar's NCP -reportedly prefer Mr Mukherjee.
Mrs Gandhi said recently that no name has been finalised. The presidential election has been positioned as a curtain raiser to the general election in 2014.