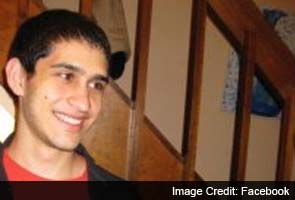 Washington:
The anxious family of 22-year-old Indian-American student Sunil Tripathi, who went missing on March 16, has issued a passionate plea for him to return home.
"Sunil please come home, we all love you, we miss you very much," Akhil Tripathi, father of Sunil told PTI, hoping his youngest of the three children would heed his message and come back home.
Security agencies, including the local police and the Federal Bureau of Investigation, have been making frantic effort to find Sunil, but have not been able to get any "solid lead" so far, said Mr Tripathi.
An undergraduate student from the Brown University, Sunil went missing on March 16. He left his cell phone, ID and wallet in his room, where he was last seen by his room-mate at 11 am on March 16.
"We are all questioning that. I wish we knew. It has never happened. His cell phone, his ID card, his wallet everything was in his room," the father said.
Born and brought up in Kanpur, Sunil lives in Pennsylvania where he runs a software company.
Ever since his son went missing, Mr Tripathi has been living at a temporary accommodation provided by the Brown University along with his family.
"No real news. They (investigating agencies) are following up every lead and info they get. There is no solid positive lead yet," he said. He had last spoken to Sunil on March 12, while on March 15 night, a day before he went missing he spoke with his grandmother.
The police and the FBI which has been investigating the case, he said, have not found any real clue or lead so far.
"They do not suspect there is a foul play, but nothing is being ruled out," Mr Tripathi said.
Meanwhile, support for Sunil has been growing among the public. While scores of his friends are personally involved in his search operation, the Facebook page 'Help us find Sunil Tripathi' has attracted more than 1.1 million views in last six days.
Police are receiving an increasing number of tips on Sunil's possible whereabouts, including calls from across New England and as far away as Illinois. The businesses in Providence have been volunteering support by reviewing their surveillance videos to find any footage of Sunil.
"From grocery store and coffee shop owners who are posting flyers to the waves of complete strangers who have volunteered to search the parks and canvass the streets, the community's willingness to pitch in to find Sunny has been really remarkable," said Ravi Tripathi, his elder brother.
"We want to thank the whole Providence, RI community for coming together to help, with private businesses stepping forward to offer well wishes and support, from posting flyers to reviewing their private surveillance footage from the weekend of March 15, 2013," his family said in a statement.
According to the Facebook Page set up by his family, Sunil missing from his Angell Street residence since Saturday morning, is 6'0, 130 pounds, with brown eyes and short brown hair.
He left wearing blue jeans, a Philadelphia Eagles beanie, and a black sweatshirt. He is essentially off the grid since he does not have his ID, wallet, or cell phone.
"Sunil has been struggling with depression since he took a leave of absence from Brown last year. A note suggestive of suicidal intent left behind in his apartment has his family extremely worried," the family said adding that they are currently in Providence, helping the police search for him.
"Sunil is a kind, gentle, and shy young man. All we want is for him to return safe and well," the family said on its Facebook Page.
Sunil, a philosophy major, was on approved leave from the University.
"Early on Sunday afternoon, March 17, Brown's Department of Public Safety received a report of a missing person. Sunil Tripathi, a Brown student on an approved leave, was last seen on Friday, March 15, at about 7:30 pm," the Brown University said in its statement.
"The missing person report is being handled by the Providence Police Department with the full cooperation of Brown police officers and University staff.
The Office of Student Life has been in touch with Sunil's family, and our concerns are first and foremost with Sunil and his family. Any further questions about the investigation would need to be directed to Providence Police," the university said.