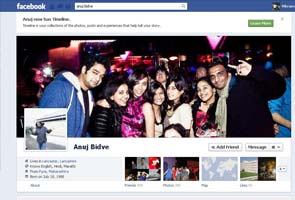 London:
Social networking website Facebook has been flooded with comments condemning the killing of Indian student Anuj Bidve in Manchester.
The 23-year-old Bidve, from Pune, was part of a group of nine men and women -- all Indian students -- visiting Manchester for a short break for Christmas. He was a postgraduate student in micro-electronics at Lancaster University.
Bidve was shot in the head while walking from his hotel in Salford area towards the Manchester city centre around 1.30 am. He died at a hospital a short while later.
Bidve's friends and people unknown to him in UK and India have reacted strongly to the killing on Facebook. One post termed the killers as "vermin".
Sunit Parab from Glasgow said it was "really a sad incident to have happened".
Facebook user Yas Miin termed the killers "sick scumbags" and asked for their hanging. "RIP to anuj may god bless him such a young life taken away frm his parents and family hpe ther catch the sick scumbags and hang them," she wrote.
Manchester resident Becca Cloughley Lewtas said she was "ashamed that someone from my city would do such a vile act".
"I truly hope they catch the vermin who did this to you," she added.
A man named Shripad Sathe, however, opposed taking the body back to India.
"Whilst I did not know this gentleman before, might I also, with due respect to everyone, also suggest last respects might be paid in the UK, rather than carry him (all with paperwork etc which is mentally traumatic) to India? Sincere apologies if this hurts anyone," Sathe wrote on the website.