Ludhiana, Punjab:
Imagine being treated by doctors who are not qualified, because they went to a college which hired 'ghost' faculty, private practitioners hired for 2-3 days simply to help get the college its licence.
This phenomenon, widespread in India, was brought out by the Punjab Medical Council under its President, Dr GS Grewal, the findings investigated at length by the NDTV show, Truth vs Hype.
On the day our report aired, Dr Grewal was sacked by the state government. But removing the whistleblower will not make the hard facts go away.
According to the guidelines of the Medical Council of India, which grants licences to medical colleges, for any medical college to operate, it must meet minimum requirements of faculty, patients, equipment and infrastructure.
For a college that wants to admit about 150 students per batch for a 5-year MBBS programme, it needs a faculty of about 110 full-time doctors, and about 900 patients. At any given time, there must be about 80-90 per cent attendance of both. But the PMC's probe found that colleges are easily beating the system, by parachuting in doctors on the days of inspection.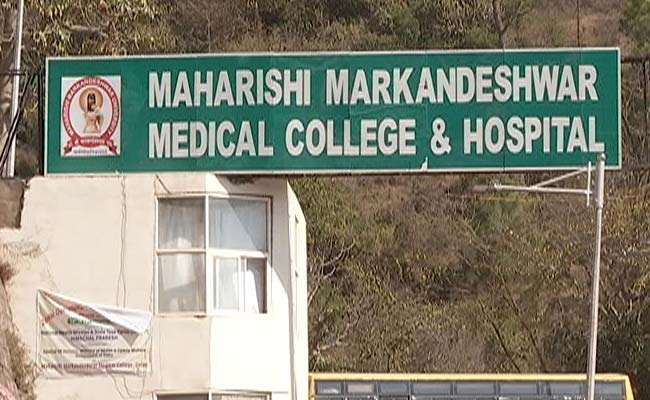 One of the institutions with a high number of ghost faculty - over 300 - belonged to the Maharashi Markendeshar Trust, with colleges in Solan in Himachal Pradesh, and in Ambala in Haryana
The teachers' declaration forms, which are submitted to the MCI, showed that they had identified themselves as full-time staff right until the time of the last inspection - again, by doctors deputed by the MCI - on 1 January 2015, with their home addresses shown on campus. In reality, these doctors had thriving private practice hundreds of kilometres away.
"One is shown in the general medicine department, but has a hair transplant clinic and a beauty clinic; another is a senior surgeon and running a heart center; a third is practicing alternate medicine," Dr Grewal said to NDTV in Ludhiana.
Dr Grewal claims that "unless they have got helicopters to ferry them," these doctors can't keep up both - their private practice and teach full-time.
One such example is Dr Kulwant Singh, shown as a faculty member at MM Medical College in Solan from at least 2013 to 2015. But as we found, he's been running a heart centre in Ludhiana, over 150 kilometre away. Posing as a patient, we went to him for a consultation, to confirm Grewal's allegations. We then tried to meet him for a TV interview, which he refused. Dr Singh told us he'd indeed taught at Solan but had resigned in January 2015, in the very month of the inspection.
Moreover, when we visited the Solan college, a doctor told us - on hidden camera - that Dr Singh would only come for inspections. "He's on the roll with us but isn't here," said the doctor. "These private medical colleges enroll private doctors. They call them here when there's an inspection. Now the conditions are strict so the doctors don't come anymore."
Dr Singh's tax returns, accessed by NDTV, show that during the same period he was drawing salary from the college, of Rs 50,000 per month, he was also receiving payments from Third Party Insurance companies, a sign that his clinic was operational.
What makes Dr Singh's case shocking is that he is the Chairman of the Ethics Committee of the PMC, showing how regulatory bodies are also compromised. "It is very sad. In fact the medical council members should know the law; in fact, they are its custodians," said Dr Arun Mitra, another senior PMC member. "And if they are involved, I think it's a bigger crime."
NDTV was able to verify the same modus operandi used by two other doctors associated with the Solan university: Devendrajit Singh Walia and Sukhwinder Singh Sibia, both shown as assistant professors between 2013-15 in their MCI declarations and both running their own clinics in Ludhiana.
When we tried to interview Dr Walia, he suddenly fell unwell. Dr Sibia, however, told NDTV that while he was teaching, his medical centre was run by his wife. Like the others, Dr Sibia too said he'd resigned after the last inspection in January 2015.
The PMC's case and the doctors own admissions undermine claims made on MM Medical College's website, of providing world-class medical education. When we visited the college and hospital on a Friday morning, its emergency room and Out Patient Department were almost deserted. The principal was on vacation. The university registrar, Mr Ajay Singla, wouldn't answer any questions on the medical college or on its faculty.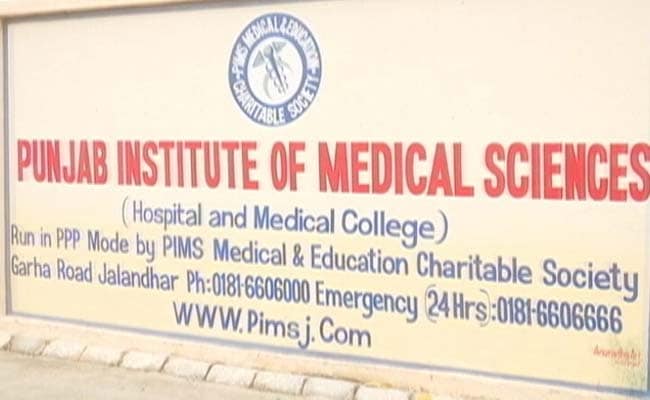 Another college in the cross-hairs of the Council for a high number of 'ghosts' is the Punjab Institute of Medical Sciences in Jalandhar. One of its faculty, Dr BS Bhatia, shown as an associate professor of surgery for the year 2014-15, has also been running a private hospital in the town of Qadian, about 50 km away. He too is a member of the PMC
At the PIMS surgery department, no one had heard of a Dr Bhatia. Over the phone, Bhatia said he had resigned immediately after the last inspection.
Two other faculty members - Dr Sanjeev Mahajan , an Orthopaedician and Dr Vaneet Kaur, a gynecologist - said the same thing. Both are doctors at the Fortis Hospital in Ludhiana. The college gynecology department even admitted Dr Kaur only appeared for inspections. "She hasn't joined yet. She'd come once or twice at the time of inspection," said the receptionist.
But officials in PIMS said these doctors were not ghost faculty and that these doctors do teach, but were removed after they were found moonlighting. "This is about a year back when a couple of doctors were pointed out for doing private practice during working hours," said Dr Kanwaljeet Singh, the PIMS director. "We immediately removed them."
According to the tax returns of these doctors, the colleges pay them between Rs 6-12 lakhs just to turn up for 3 to 4 days of inspection. Yet it's easy to see how they afford it. The cost of medical education remains high: students pay anywhere between Rs 13 to 40 lakh each for a 5-year MBBS programme. Clearly, in the case of tainted colleges, the students are not getting their money's worth, but the high financial stakes is what makes it hard to contain the fraud.
When Dr Grewal tried to penalise these errant doctors, Punjab's Medical Education Minister Anil Joshi called off a meeting called by the PMC, citing technical grounds.
On Saturday morning, the minister issued orders to sack Dr Grewal. He was not available for comment.
So the government took swift action, not against the findings of medical malpractice but against those bringing it to surface.