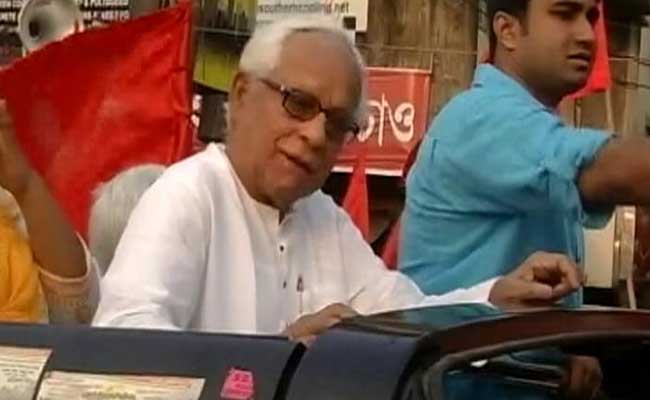 Kolkata:
Veteran CPI(M) leader Buddhadeb Bhattacharjee was rushed to a hospital in Kolkata this afternoon after he suffered severe breathing difficulties and his oxygen saturation fell to about 72. He has tested negative for COVID-19 and is responding to treatment, hospital authorities said, but has been put on non-invasive ventilatory support.
The former West Bengal Chief Minister's condition is critical and he has been put on mechanical ventilation, the latest medical bulletin at 6.32 pm by the hospital in Kolkata where he is admitted has said.
The 76-year-old veteran CPM leader was rushed to Woodlands Hospital this afternoon around 2 pm after his existing breathing problems aggravated and his oxygen saturation fell to around 70, much less than the recommended cut off of 94 on the oximetre.
Doctors attending to Mr Bhattacharjee said he had tested negative for COVID-19. "His HRCT Thorax shows features of old patches of pneumonia. His brain scan too shows old infracts. His repeat ABG shows accumulation of carbon dioxide and low PH levels."
"Hence, decision was taken by clinical expert team to electively ventilate after proper consent of family members," the bulletin said.
An earlier medical bulletin around 5 pm had described his situation as critical and said he was on a BIPAP, which is a non-invasive ventilatory support system.
"He is on intravenous antibiotics, steroids and other supportive medications," the latest bulletin said.
Chief Minister Mamata Banerjee first tweeted her concern about Mr Bhattacharjee's health and then visited the hospital to meet his wife and daughter and offer full support. Governor Jagdeep Dhankar too visited the Woodlands hospital to enquire about the former chief minister's health.
Concerned to hear that former Chief Minister Buddhadeb Bhattacharjee has been hospitalised with breathing problems. Praying for his speedy recovery and wishing him well

— Mamata Banerjee (@MamataOfficial) December 9, 2020
Governor Jagdeep Dhankhar, who had met Mr Bhattacharjee at his home in October, also wished him a speedy recovery.
Wishing speedy health recovery of Former West Bengal Chief Minister Buddhadeb Bhattacharya admitted in Hospital.

Getting update from hospital authorities.

— Governor West Bengal Jagdeep Dhankhar (@jdhankhar1) December 9, 2020
A medical board has been set up by Woodlands hospital to monitor Mr Bhattacharjee's health and treatment. The board includes cardiologist Dr Saroj Mondal, pulmonologist Dr Ankan Bandopadhyay, critical care specialist Dr Soutik Panda, physician Dr Kaushik Chakraborty and anaesthesiologist Dr Asis Patra.
Stating that no visitors are allowed to meet Mr Bhattacharjee, CPI(M) State Secretary Surjya Kanta Mishra said, "Well-wishers are requested to co-operate with the hospital authority for maintaining strict discipline in this regard," he tweeted.
Buddhadeb Bhattacharjee has been suffering from cardiac issues, CoPD and other old age-related ailments for quite some time.
Last year as well, he was rushed to a hospital in the city after he complained of breathing problems and his blood pressure fell drastically. His treatment has since continued at home.
Mr Bhattacharjee served as the Chief Minister of West Bengal for two terms starting 2000. In 2018, he had stepped down from the CPI(M)' s politburo, the central committee and the state secretariat.