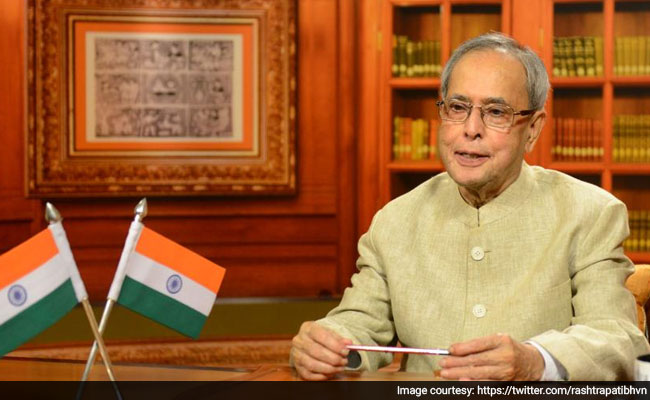 New Delhi:
Environment and climate change are the most important issues and pose great challenges that need to be collectively responded to by people else their existence might be in danger, President Pranab Mukherjee said in Delhi today.
Addressing a group of probationers of Indian Forest Service (2014 Batch), he said practical and innovative solutions are to be found for forming policies and solving problems which they will be confronting.
He said that in today's world, environment and climate change are most important issues and pose great challenges.
"The human race as a collective body needs to respond to these challenges or their very existence might be in danger," Mr Mukherjee was quoted as saying in a press release issued by Rashtrapati Bhavan.
Noting that a large number of the probationers present were engineers, he urged them to use their expertise and core competence for improving the quality in management of forests.
Addressing the probationers, the President said that they will not only be the implementer of policies but will also provide inputs for policies.
He said that practical implementable solutions are to be found and any lopsided or imbalanced approach cannot be adopted. Theirs is not an ordinary administrative job, the release said.
It demands innovative solutions to problems with which they will be confronted. How they serve the country and contribute in the development of the nation will depend on their attitude towards their job. He said that we have no right to spoil what we have inherited.
"Rather, it is our responsibility to leave it in an improved condition," it said.
The President extended a special welcome to the two probationary officers from Bhutan. He wished that all the probationary officers may have a successful and rewarding career in the future.
Mr Mukherjee said that the Indian Forest Service has a long and glorious past. It was earlier known as the Imperial Forest Service and was constituted by the British Government in India in 1867. It was subsequently renamed as Indian Forest Service.