Pulwama, South Kashmir:
Highlights
In Kashmir, social media users incite locals to rush to encounter spots
Live updates of encounters are circulated through WhatsApp, Facebook
The consequences are alarming - for both the forces and civilians.
On March 28th, as security forces fought a terrorist of the Hizbul Mujahideen holed up in a building in Chadura, a town in north Kashmir, the gunbattle was being streamed live by 22-year-old Zahid Rashid on his Facebook page.
Much like the case with other encounters in Kashmir, the forces soon found themselves battling another front - a hostile crowd of locals, pelting the jawans with stones.
This new, dangerous turn in Kashmir's war on militancy - of stone-throwing civilians acting as an outer layer of defence for terrorists - is being provoked, in part, police believe, by live streams like those on Rashid's Facebook page.
Rayees Ahmed Bhat, the Superintendent of Police of Pulwama, one of the most sensitive regions in the Kashmir Valley told us that social media users regularly incite crowds to rush to encounter spots to take on security forces by sharing details of the encounter on WhatsApp groups or Facebook.
Some, like Rashid, stream the shootout live, acting as a further catalyst for crowds to gather.
The consequences can be alarming - for both the forces and for civilians.
Rashid was killed in firing by security forces in Chadura, one of three civilians who died that day. Close to 23 security personnel were injured in the stone pelting.
At his home in Chadura, Rashid's sister Sumeira Jan fights back tears. She says she urged Rashid not to go to the spot, but he insisted. They watched his live feed on Facebook. A short while later, they learnt he was dead. (In a macabre twist, the immediate aftermath of Rashid's death was also captured on a live stream, in all likelihood by another cellphone user at the same location.)
The family insists that Rashid was not a stone-pelter. For one, they say he was too far away from the encounter spot.
We are then taken upstairs to his room, to show us his expensive possessions - a high-definition Nikon digital camera with a zoom lens, a Sony handycam, a Sony VAIO laptop.
His cousin showed us photographs of Rashid posing on his latest toy, a KTM motorcycle, all paid for by the family's thriving jewellery shop where Rashid also put in time.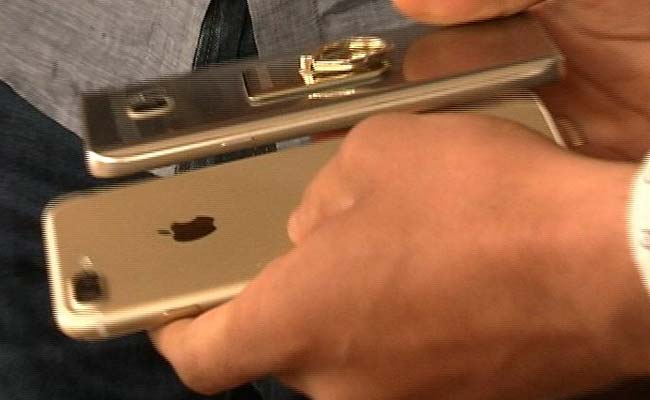 Also shown to us - a rose-gold iPhone 7, used for what would be his final, fatal broadcast.
"My brother had a Rs 70,000 phone. Why would he throw stones for Rs 500?" asked Sumeira Jan angrily, a reference to the insinuation that stone pelters can be 'bought' for a nominal fee.
Police sources, however, claim that Rashid was part of the crowd from where stones were being thrown.
Regardless, in their eyes a young man live streaming an encounter has also come to pose a degree of risk.
A pushback has begun against the inflammatory use of social media.
Mr Bhat, the police official, told us he has detained close to 250 young men for running or participating in provocative WhatsApp groups.
We were shown screen shots of some of these groups, with names like Pulwama Tigers and Pulwama Rebels.
The more serious troublemakers active on these platforms have been arrested, most others have been counseled and let off.
"It has improved the situation by 90 per cent," said Mr Bhat.
But in the tinderbox that is Kashmir, even a small spark lit by social media could flare up into something more serious, he cautioned.