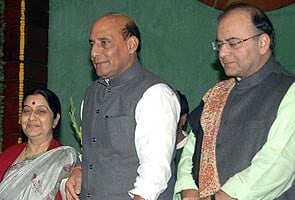 New Delhi:
A chartered plane that took off from Delhi this morning had an all-VIP passenger list: BJP president Rajnath Singh and senior party leaders Sushma Swaraj and Arun Jaitley.
The plane was headed to Bangalore but was forced to turn around and return to Delhi for an emergency landing.
The pilot and passengers are reported safe.
"We had flown for about 45 minutes. The co pilot told us that the aircraft had developed a technical snag and we could not go further," wrote Ms Swaraj on Twitter.
The group was meant to address a rally in Karnataka today ahead of next month's elections, when the BJP hopes to be re-elected in spite of a term that has been marked with corruption scandals and dissidence within the party.