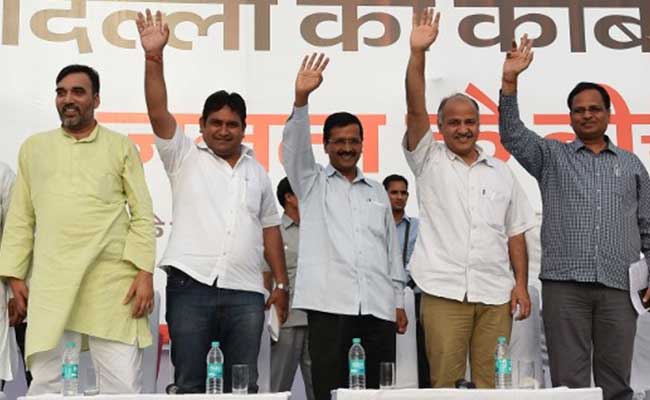 Highlights
Poll panel will decide on 20 AAP MLAs' disqualification likely in August
Legislators approached poll panel to drop their disqualification case
Were appointed parliamentary secretaries by Delhi government in 2015
New Delhi:
In a setback for Delhi Chief Minister Arvind Kejriwal's Aam Aadmi Party, the Election Commission (EC) has rejected pleas of 21 AAP legislators to drop office of profit case against them. The EC in its final hearing, likely to be in August, will decide on their disqualification.
The EC has also made it clear that the Delhi High Court order that set aside their appointments won't come in the way of the poll panel while deciding their disqualification as "the MLAs held the posts de facto".
The EC order said that the commission was of the "considered opinion that the AAP legislators did hold de facto the office of parliamentary secretaries from March 13, 2015 to September 8, 2016".
The 21 AAP legislators had approached the EC to drop their disqualification case as their appointments as parliamentary secretaries have already been set aside by the Delhi High Court. The proceedings were dropped against Jarnail Singh who had resigned from Rajouri Garden in Delhi to contest the Punjab Assembly elections.
Now, they will have to provide proof to the EC that they haven't got any benefits from their posts.
The ruling party's legislators in question were appointed parliamentary secretaries by the Delhi government in March 2015. In June 2015, the government passed an amendment to the Delhi Members of Legislative Assembly (Removal of Disqualification) Act, 1997, to exempt the post of parliamentary secretary from the definition of office of profit with retrospective effect. However, President Pranab Mukherjee refused to give his assent to the bill. Following this, the appointments were set aside by the Delhi High Court in September last year.
The court had said the order to appoint them as parliamentary secretaries was given without the concurrence of the Lieutenant Governor (LG).
Chief Minister Arvind Kejriwal had defended the appointments saying the legislators were helping the government deliver on the promises made to the people and weren't paid from the exchequer for the extra work that they put in.