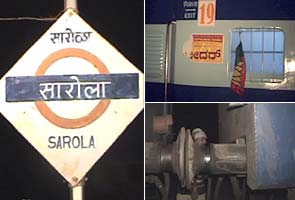 Bangalore:
In what appears as the Government's attempt to crackdown on BJP's
Ekta Yatra
, late on Saturday night, a train filled with 2000 BJP activists bound for Jammu was sent back to Karnataka from Ahmadnagar on the Karnataka-Maharashtra border.
At 2.15 on Sunday morning, the railway officials changed the engine of the train while most passengers were fast asleep, to change its route and send it back to Karnataka.
The midnight switch took place at Sarola, a small station in Ahmadnagar.
About 100 CRPF Jawans and 1500 policemen were present at the station to complete the operation.
The special train, that left on Friday morning for Jammu, headed back to Gulbarga in north Karnataka.
Meanwhile, reacting to the Government's repeated claims of calling the Yatra an opportunistic move and attempting to disrupt it, senior BJP leader Arun Jaitley asked "Is hoisting national flag a provocative issue? We condemn the move of the Government in repressing the
Yatra
... I have been told that all borders into J&K are blocked, trains carrying activists being cancelled, diverted... BJP
Yatra
has been absolutely peaceful."
Speaking to the press in New Delhi Jaitley also remarked the government is using 'undemocratic methods' to stop the
Yatra
. "No penal action has been taken against separatists... separatists' meet was called expression of free speech... we are not apologetic about hoisting the national flag," added Jaitley.