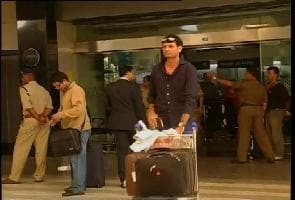 Mumbai:
A special Air India flight with 320 Indians from Cairo has landed at the Mumbai airport.
The arrangement for the special flight was made at the request of the Indian community in Egypt in view of the prevailing situation there, the External Affairs Ministry said in a statement
on Sunday.
The Indian Embassy at Cairo has already made special arrangements to airlift all Indian nationals living in the country who wanted to return home.
Another special flight is expected to bring back over 200 Indians from Cairo tonight.
The arrangements are being coordinated by the Indian Ambassador to Egypt R Swaminathan.
The Embassy officials are in touch with the Ministry of External Affairs here, which is closely monitoring the situation.
External Affairs Minister S M Krishna said, "The Government of India is doing everything to safeguard and we are also taking steps for those who are keen to come back to India"
There are about 3,600 Indians in Egypt of which 2,200 are in Cairo. Some Indian tourists are stranded in Sharm-el-Sheikh and efforts were underway to transport them.