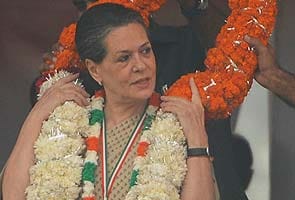 New Delhi:
A combative Sonia Gandhi brought up the rear of the Congress's mega three-speech rally at Delhi's Ramlila Maidan today, ripping into the BJP and emphatically defending the government her party leads and the tough reforms measure it has been forced to take recently.
(Highlights)
In the strategic presentation that the three leaders made, Mrs Gandhi's was the unambiguously political speech. She said, "The Congress party is confident that we will do well in elections," and then took on the opposition BJP, without naming it, on its main line of attack on the Congress - corruption. She didn't name BJP president Nitin Gadkari either, but the allusion was clear when she said, "They are mired in corruption charges themselves that is why they are making false allegations. They want to weaken the democratic edifice of this country, but we will not let them succeed. They lecture us on corruption but are corrupt themselves."
Mr Gadkari faces several allegations of corrruption and financial wrongdoings that have put his party on the backfoot after it attempted to appropriate the corruption plank as an political agenda.
She warned, using a Hindi idiom, "
Jo durse ke liye gaddha khodta hai, uske liye kuan tayyar rehta hai
(those who dig pits to trip others, often ready wells for themselves to fall in)."
The Congress' rally seemed to counter recent attacks on it from activist-turned-politicuan Arvind Kejriwal as much as it did the BJP's. Mrs Gandhi's son-in-law Robert Vadra was recently accused of corrupt practices and making illegitimate business gains by Mr Kejriwal. Senior Congress leaders and ministers have also been accused of corruption in different cases. Both Rahul Gandhi and Sonia Gandhi spoke at length about what they called the Congress' anti-corruption efforts. Mrs Gandhi said, "I admit, corruption is a cancer, is a disease. "But we have fought this disease before and we will continue to fight this disease with all strength once again."
Mrs Gandhi also sought to bring to rest any speculation about the party Congress being at odds with the UPA government.
She explained the government's imperatives in having to take tough economic decisions. "I know that inflation has hit the common man. The problem is that the oil prices have quadrupled in in international markets - we import 80% of our requirements. We have not increased the prices of food grains under the public distribution system (PDS)," she said.
Dispelling any impression about the Congress and the government having second thoughts on the FDI issue, Mrs Gandhi said that the country needed a large dose of investment, of which foreign direct investment is a part, to boost growth and employment.
(with inputs from Agencies)