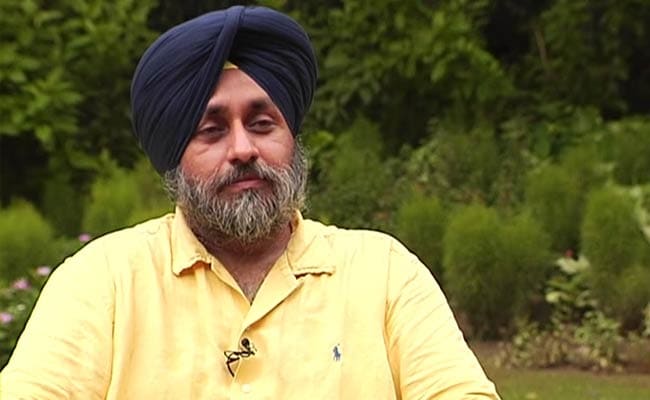 Bathinda:
Punjab's Deputy Chief Minister Sukhbir Singh Badal today hit out at those who try to brand Punjabis as drug addicts.
Reiterating the SAD-BJP government's resolve to take Punjab to new heights of development and prosperity, Sukhbir Badal castigated those who try to brand Punjabis as drug addicts.
He also hit out at the Congress "for dubbing Punjabis as drug addicts as part of a defamation campaign against Punjab and Punjabis."
Notably, Punjab Congress has in the recent past hit out at the state government for the growing drug problem in the state, alleging the SAD-BJP regime had become "a silent spectator" on this issue.
Interacting with media persons after hoisting tricolor in Bathinda on 69th Independence Day today, Sukhbir Badal said the claims of those who try to brand Punjabis as drug addicts stood exposed during an army recruitment rally in Bathinda recently.
"Not even one youth out of the 5,500 who has attended the recruitment drive tested positive for drugs during the mandatory dope test conducted on the spot," Mr Badal pointed out.
Mr Badal said even Defence Minister Manohar Parrikar had extended appreciation and lauded Punjab for providing strong, fit and brave Punjabi youth to the armed forces.
"The malafide intentions of the Congress have been exposed and now the party owes an apology to the Punjabis (on drug issue)," he said.
On the issue of strengthening of borders, Mr Badal said he had written to Union Home Minister Rajnath Singh to deploy Border Security Forces on the pattern of Jammu and Kashmir.
He also commended the Punjab Police for the courage and valour shown during the Dinanagar terror attack and said the Punjab Police was fully ready to give a befitting reply to any anti-state and anti-national activities.
When asked about any apprehension of more terror strikes, Mr Badal said that there was no internal threat and that is why the state was taking up the issue of strengthening of borders with Centre to avoid any infiltration or untoward incident.
Asked about Congress MP from Amritsar Amarinder Singh's "absence from Parliament and infighting in the state unit of the Congress party," Sukhbir Badal said "Captain (Amarinder) is trying to contest next Assembly polls on his own."
"Amarinder is mulling over the prospect of creating his own political outfit for this purpose and he has given a threat to quit the party," Mr Badal alleged.
"In nutshell Captain is a betrayer, who backstabbed Punjab and Punjabis...after Patiala (where Amarinder was MLA earlier), now Amarinder is backstabbing the people of Amritsar by crushing their aspirations," he claimed.
On being asked about the protest started by Chief Parliamentary Secretary and BJP MLA from Amritsar (East) Navjot Kaur Sidhu and issue of Bhagtanwala Dump in Amritsar raised by CPS and SAD MLA from Amritsar (south) Inderbir Singh Bolaria, Badal said that the SAD-BJP alliance was everlasting and it was an unflinching bond.
On Bolaria, he said the SAD legislator was only raising the public issue of his own Assembly constituency, which was right of every citizen and elected representative.
When asked about the recent statement of Congress leader Jagmeet Brar stating that he would contest the next polls against Punjab Chief Minister Parkash Singh Badal, the Deputy Chief Minister said "Brar is most welcome to do this. However, he must keep in mind that he will lose his security deposit".