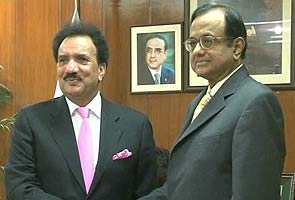 Islamabad/New Delhi:
Pakistan has dismissed India's claim that the arrest of 26/11 handler
Abu Hamza
, and the information he has provided to interrogators, proves that Pakistani state actors were involved with the attacks on Mumbai in 2008.
"Hazma is Indian. India is failing to control its citizens," said Pakistan's Interior Minister Rehman Malik. "I told (Home Minister) Chidambaram that Hindu extremism is growing in India," he added.
This morning, India's Home Minister P Chidambaram said, "He has confirmed that he was in the control room and he has named a few people who were in the control room...that confirms our suspicion that this was an organized effort which had some kind of state support. The argument that it was non-state actors who were behind the massacre is no longer valid."
(Read)
Mr Malik reacted sharply, stating, "Each time India has accused the ISI of involvement in a terror attack, it has been proved wrong."
(Abu Hamza's arrest: Top 10 developments)
Hamza was deported from Saudi Arabia to Delhi and is now being interrogated by intelligence officers and the Delhi Police. He has said that as the attacks on Mumbai began, he was in a control room near the international airport in Karachi. Supervising the operation there, he has said, were ISI officers and Lashkar commanders including Zaki-ur Rehman Lakhvi.
After Ajmal Kasab became the only terrorist to be captured alive during 26/11, he has said, all handlers including him were asked to leave Pakistan He allegedly travelled to Saudi Arabia on a Pakistani passport with a fake name. US intelligence officials and India were alerted to him after he allegedly made a call to Pakistan, that was tracked down by the US.
"We identified him almost a year ago...it was a well-guarded secret...we tracked him. I think the world appreciates how India is going about tracking every one of the 26/11 masterminds," Mr Chidambaram said.
In discussions with India about its own investigation and trial for those connected to 26/11, Pakistan had told India that Abu Hamza had been arrested. When asked how Hamza had then managed to leave the country, Mr Mallik said this was not the same man listed in a dossier shared between the two countries.