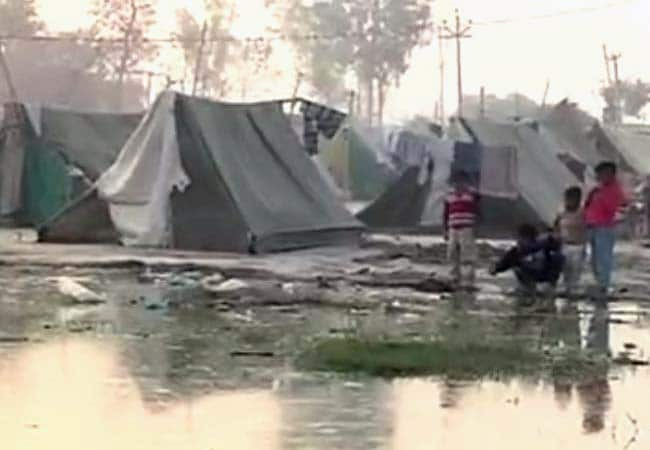 Expressing concern over reports that 50 children had died due to cold and poor facilities at relief camps in riot-hit Muzaffarnagar in Uttar Pradesh, the Supreme Court today directed Chief Minister Akhilesh Yadav's government to take immediate steps and provide all help to those at the camps by tomorrow.
Here is how you can help:Join the blanket collection drive by NDTV and Uday Foundation for Muzaffarnagar relief camps.
Drop relief material at:
NDTV,
Archana Complex,
Greater Kailash I,
New Delhi- 110048
Or

Uday Foundation,
113 A/1, Adhchini,
New Delhi- 110017
Phone: 011-26561333
Financial assistance details

Cheques can be made in favour of "Uday Foundation" and send at following address:
Uday Foundation
113A/1, (Near Govardhan Resturant), Adhchini
Sri Aurobindo Marg, New Delhi 110017
Ph.: 011-26561333/444



For online transfer :-


Bank Name: Bank of India
Branch: Hauz Khas, New Delhi 110 016
Account name: Uday Foundation for Congenital Defects and Rare Blood Groups
Type: Savings
A/c No. 600510110001587
IFSC Code BKID0006005
Since Uday Foundation is not registered with FCRA we cannot accept foreign donations, it accepts donations from Non-Resident Indians only through any bank account operational in India. Contributions made by a citizen of India living in another country, from his personal savings, through the normal banking channels, is not treated as foreign contribution
.


Please share the details after you have made the donation to help@udayfoundationindia.org, along with your complete address and PAN card no, enabling us to send a 80G tax exemption receipt of the same.
Note: This information has been provided / published on a good faith basis, without any commercial motive. NDTV does not vouch for the authenticity of the claims made by the intending donee, nor can we guarantee that the donations made by a donor will be used for the purpose as stated by the intending donee. You are requested to independently verify the contact information and other details before making a donation. NDTV and/or its employees will not be responsible for the same.