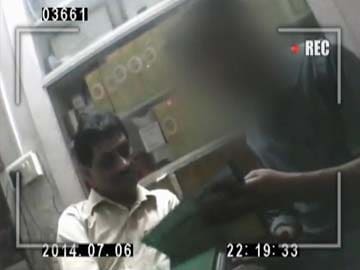 New Delhi:
A doctor in Delhi has been arrested after he was caught on camera in an NDTV investigation that exposed doctors accepting bribes in exchange for pushing expensive and often unnecessary drugs on patients. The licences of two other doctors have been suspended pending enquiry. (
Caught On Camera: For Bribes, Doctors Will Prescribe You Anything
)
Dr JN Saxena, a general practitioner, was filmed on hidden camera accepting Rs 5,000 from the NDTV team which posed as representatives of a pharmaceutical firm. (
Watch
)
Not only did Dr Saxena reportedly admit accepting the bribe, the MCI enquiry also revealed that he is allegedly a quack. The degree and certificates produced by him were allegedly fake.
The expose showed the two other doctors demanding a digital camera worth Rs 1.5 lakh and an iPad mini.
Union Health Minister Harsh Vardhan told Parliament yesterday that the Medical Council of India - the country's medical watchdog - would investigate the expose. (
Doctors Caught Taking Bribes. NDTV Expose Raised in Parliament
)
The Ethics Committee of the Medical Council of India reviewed the NDTV investigation today. While Dr Saxena was arrested, the two other doctors who were filmed were asked to explain their actions to the committee before their licences were suspended.