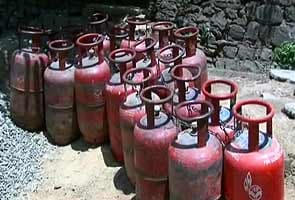 Tumkur, Karnataka:
The ambitious direct transfer of cash subsidy on cooking gas was today kick-started in 18 districts with consumers being paid Rs 435 directly in their bank accounts.
Petroleum and Natural Gas Minister Veerappa Moily today formally launched the scheme in Tumkur in Karnataka, which is among the 20 high Aadhaar coverage districts.
The scheme would benefit over 6.7 million LPG consumers in these districts, Mr Moily said. "The subsidy on LPG cylinders would be provided directly to consumers in their Aadhaar-linked or Unique Identification Number (UID) bank accounts," he added.
The scheme will be implemented in Mysore, the second district chosen for the pilot project in Karnataka, in July as it was postponed due to election code in the wake of May 5 Assembly polls in Karnataka, Mr Moily said.
All Aadhaar-linked domestic LPG consumers will get an advance in their bank account as soon as they book the first subsidised cylinder before delivery, Mr Moily said.
As soon as, the first subsidised cylinder is delivered to such consumers, the next subsidy will again get credited in their bank account, which can then be available for the purchase of the next subsidised cylinder at market rate, he added.
All LPG consumers who have not linked their Aadhaar number to LPG consumer number and their bank account will have three month grace period from date of launch to do so. During this period they will continue to get the LPG cylinders at subsidized rate, as they are getting today, up to the cap of nine cylinders.
After the end grace period, LPG cylinders will be sold to all domestic LPG consumers at market price. However, the subsidy will be transferred to only those who have linked Aadhaar number to LPG consumer number and Bank account and others will not get any subsidy, he said.
Mr Moily said the Centre wants to extend the scheme of domestic LPG supply to cover 75 per cent of the population in the next three years.