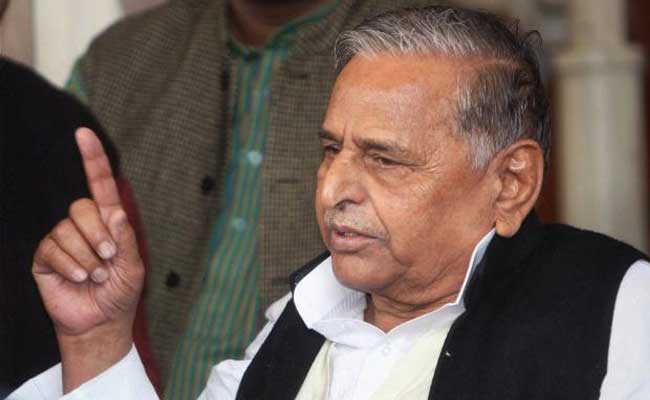 Lucknow:
Samajwadi Party (SP) chief Mulayam Singh Yadav today said he did not become the chief minister of Uttar Pradesh after his party got absolute majority in 2012 so that he could spend more time with party workers and keep a tab on the working of the government.
"...At that time, senior party leaders and workers appeared disappointed for about 15 days. They asked me that they had sought votes in my name and wanted me to become CM," he said while addressing a youth convention of the party at the SP headquarters.
"I have not become CM to remain with you (party workers) and to keep a tab on the working of the government. I have never thought that this government will do such good work. It implemented our party manifesto," he said.
Mentioning the
Dadri lynching incident
in which a Muslim was killed, Mr Yadav said, "The one whose son is in army and fighting on borders was lynched. Who were those who killed him...I had taken three names and all of them were connected to BJP. I had said that if the PM wants he would also tell the names."
Attacking Prime Minister Narendra Modi, Yadav said he had made "tall promises" during Lok Sabha polls but "could not implement any of them".
"He (Modi) had talked of removing China's encroachment on Indian territory but when Chinese PM was in India, his army was entering our side. He also failed to remove discrimination as promised by him," Mr Yadav alleged.
Asking the youth to strengthen "samajwadi andolan" (socialist movement) by adopting "Lok bhasha", "Lok bhusha" and "Lok bhojan" (local language, dressing and food), Mr Yadav said they should project their image in such a way that people start liking it.
"When socialist leader Karpoori Thakur used to visit villages, He used to stay in the houses of the poor. Now youth leaders do not follow it and stay in houses of the rich and the most influential one in any village," he said.
The youth should ensure that SP forms government again in 2017, Mr Yadav said, adding "Present government has done a lot of good work and even after doing so, if the party fails to form government again, it would never be able to do so."
The Leaders of SP youth wing participated in the convention.