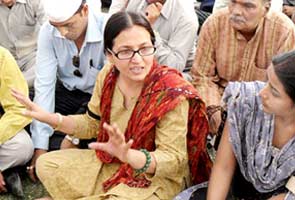 Bhopal:
The diary of Zahida Parvez, an interior designer from Bhopal arrested this week, may nail its author for the murder of Shehla Masood. In August last year, Ms Masood, a Right to Information activist who was well-known in Bhopal, was found dead in her car outside her home. The CBI believes that Ms Parvez, seized by jealousy, hired a hit-man to assassinate the activist.
Ms Masood was known locally for her close ties to different BJP politicians. One of them, an MLA named Dhruv Narayan Singh, was allegedly romantically involved with the interior designer. Ms Parvez's diary, with entries in Hindi and Urdu, documents her relationship with the MLA, as well as her escalating suspicions over the nature of his friendship with Ms Masood. She allegedly tracked the MLA's phone bills closely to keep tabs on his private life. In the diary, recovered by investigators from her office, she wrote in March last year, "Either, I will commit suicide or I will kill those who are close to Dhruv.'
The CBI believes that she then befriended a local contract killer who in turn hired the men who actually shot Ms Masood.
In her diary, on the day of the murder, Ms Parvez writes that she received a phone call from the contract killer who said "Congratulations, the work has been completed in front of the house."
More evidence against the interior designer could come from a friend of hers named Saba Farooqui who was also arrested today. Accompanied by her friend, Ms Parvez allegedly stalked the MLA; one day, her diary shows, she saw him entering Ms Masood's home.
The dead activist's father, Masood Sultan, says that to the best of his knowledge, his daughter did not know the woman arrested for her murder. He also acknowledges that Mr Singh was a frequent visitor to his home. He told NDTV today that the MLA was the first person he called after he learnt his daughter had been killed. "He just kept quiet," he recalled. "I expected him to ask for details but he did not. Then he came to the house to offer his condolences. After that he never came to meet us," he said.
Mr Singh has been interrogated by the CBI.