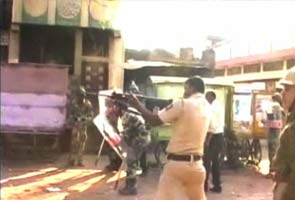 Mumbai:
A Maharashtra Police report on the January 6 Dhule riots in the state has indicted cops of firing "in excess". The communal riots in Machchli Bazaar in Dhule claimed six lives and more than 200 people, including policemen, were injured.
The report, submitted by Ahmed Javed, Additional Director General, law and order, Maharashtra, to the state government last week, says the police had to open fire to save senior police officers who had gone deep inside the troubled riot zone without adequate protection. The report says that while the police had to resort to firing to contain the mob, it went overboard, and indicts many junior cops for taking excessive action.
Home Minister RR Patil today said, "We have ordered a judicial probe into the incident and it won't be right for me to comment at this juncture. If senior officers are found guilty of lapses, action will be taken against them also. No one will be spared."
The panel set up to probe the incident will record the statements of those who were present at the scene of the riots to ascertain the sequences of events.
Six policemen were arrested on February 8 and two have been suspended based on the report, which states that the suspended policemen looted and vandalised property in the area.
"Four State Reserve Police Force personnel and two Maharashtra Police officials have been arrested, besides four civilians, for their involvement in the riots," a police official said.
A riot victim had allegedly recorded the riots on a cell-phone showing a group of policemen vandalising property. A citizen's fact-finding committee, which had visited Dhule a few days ago, released the footage to the media.
Trouble in Dhule began on January 6 after an altercation between two groups at a restaurant. One said the other had not paid a bill for food. Soon the area turned into a battlefield, with mobs on both sides pelting stones. The authorities say 40 homes belonging to Muslims were completely destroyed and 17 homes belonging to Hindu families were damaged.