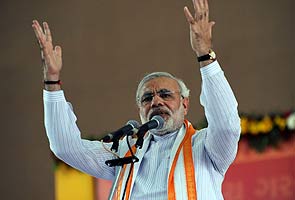 Ahmedabad:
His last fast saw the BJP pantheon descend to support him, but this time the party is furious. Narendra Modi has said no to attending the two-day BJP national executive meet that began in New Delhi today and has cited the Navaratras as a reason.
Mr Modi's supporters say he is not attending the big BJP meet as he fasts during the nine-day festival and does not travel outside Gujarat. The real reason is believed to be his differences with party patriarch LK Advani.
Mr Advani will set out on his yatra against corruption in October and Bihar Chief Minister Nitish Kumar of ally JD(U) will flag it off. He had earlier planned to begin his yatra from Gujarat, as he had done in the past, but his one-time protege, Mr Modi reportedly refused to allow that. Mr Modi and Mr Nitish Kumar are political rivals and do not enjoy the best of terms.
A discussion on Mr Advani's yatra is key on the agenda of the big BJP meeting and the party sees Mr Modi's absence as a snub to his former mentor.
His not being there has put fellow party leaders in a spot - Sushma Swaraj ducked a question on his not attending and Ravi Shankar Prasad told reporters that the party stands united. The party leadership has reportedly decided not to go out of its way to persuade him to attend the meeting and that was clear when BJP president Nitin Gadkari said casually yesterday, "We are speaking to him. He comes usually, but there are some issues due to Navratras."
At the national executive meet, Mr Modi's supporters canvassed for him. "If Modi is made the Prime Minister, he will prove to be the country's best PM," said BJP leader Balbir Punj.
"For a Gujarati like me, it will be a matter of great pride to see him (Narendra Modi) as PM," said Purshottam Rupala, a BJP leader from Gujarat.
The battle was out in the open, as Modi baiters emerged saying, Mr Advani is still the supreme leader and Modi has to wait.
"There is a lot to achieve and lots of problems in Gujarat. Modi should settle those first," said BJP leader Vinay Katiyar.
Earlier this month, Mr Modi fasted over three days for sadbhavna or amity. He began his fast on his 61st birthday and used his weekend in the spotlight to kick off what was more an election campaign. Mr Advani shared the stage with him with fulsome praise. So enthused was Mr Modi by what he called the success of his "sadbhavna mission," that he announced more fasts - a one-day fast in each district of his state soon.
In New Delhi, the BJP meet began with all other top leaders at the venue. Former Chief Minister BS Yeddyurappa is also not attending. Apart from Mr Advani's yatra, the party will discuss at length the recently signed land border agreement with Bangladesh.