Prime Minister Narendra Modi has remained popular in Asia's third-largest economy even after his decision to ban high-value bank notes, according to a new poll that gauged public sentiment earlier this year, months before economic growth slowed sharply.
The Pew Research Center poll conducted between Feb. 21 and Mar. 10, 2017 shows Mr Modi remains the top choice among the current national leaders. His popularity has risen in the past year, including in southern and eastern parts of India where his party has not traditionally held power. Public confidence in the economy and the overall direction of the country also improved.
Mr Modi has come under some stinging criticism recently for his handling of the economy and the botched roll-out of the goods and services. The survey of 2,464 Indians was conducted prior to data that showed growth slowing to levels last seen in 2014, a development economists have blamed largely on the disruptive demonetization policy.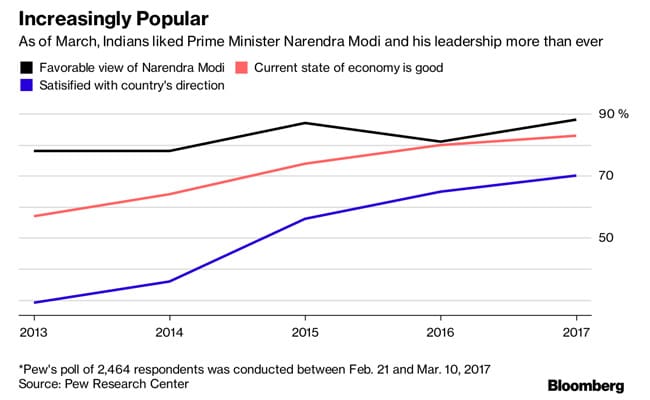 "The survey was taken before the recent slow down," said Bruce Stokes, Pew's director of global economic attitudes and one of the report's authors, in an email. "How public sentiment has changed in the last few months is not represented by this data. What is important is that satisfaction with the economy was widely shared across demographic groups. And trust in the government and satisfaction with democracy was correlated with economic satisfaction."
The Pew survey shows roughly nine-in-10 hold a "favorable opinion" of Mr Modi, about 30 points higher than rival Congress party leader Rahul Gandhi. The poll said he remained popular nationwide, but was most favorably viewed in western India and southern India.
The results are in line with other surveys that show Mr Modi and his BJP as the most formidable force in Indian politics today. They are also starting as favorites to win provincial polls in Mr ModiModi's home state of Gujarat next month.
In May, Mr Modi and the BJP were the vote of choice for four-in-ten voters -- which would have provided a better result than the BJP's massive 2014 Lok SAbha majority -- according to a "Mood of the Nation" poll of 11,373 people conducted by New Delhi's Centre for the Study of Developing Societies.
However, Mr Modi's cash ban in November, 2016 -- which sucked 86 percent of currency out of circulation -- and the July roll out of GST have knocked economic growth to 5.7 percent in the April-June quarter, down from 7.9 percent the prior year, when India was the world's fastest growing major economy.
But that might not be enough to sap the PM's momentum.
People might think demonetization and GST were executed poorly, but there are other factors -- from caste to local candidates -- that make people vote for the BJP, said Sanjay Kumar, a director at CSDS who conducts polls in India.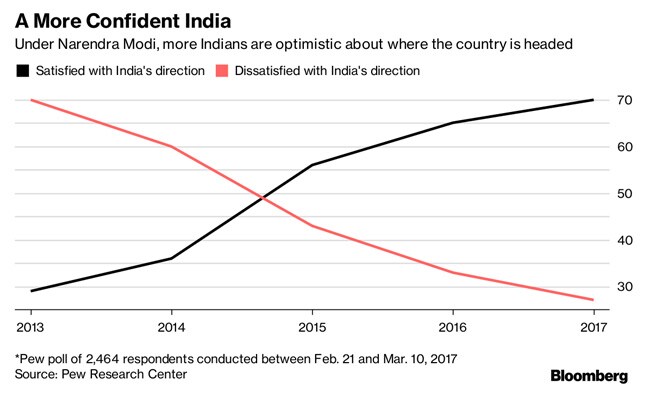 "The common man doesn't understand all these issues, if the economy picks up or not, they just see if prices go up or come down," Mr Kumar said. "People might be unhappy with the government's policies on demonetization or GST, but they will vote for the BJP on other factors."
Get Breaking news, live coverage, and Latest News from India and around the world on NDTV.com. Catch all the Live TV action on NDTV 24x7 and NDTV India. Like us on Facebook or follow us on Twitter and Instagram for latest news and live news updates.