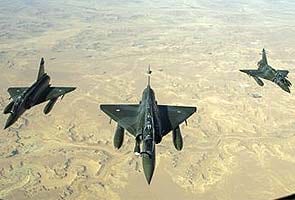 New Delhi:
Air Chief Marshal NAK Browne, the senior most Indian military commander, today expressed serious concern at the declining fighter fleet of the Indian Air Force.
Of the 42 fighter squadrons it should have, the air force has 34. Each squadron has about 20 aircraft.
And six of the squadrons have ageing MiG-21 fighter jets and are to be phased out by the end of 2016.
"The Light Combat Aircraft (LCA) and the medium multi role combat aircraft (MMRCA) are critical. In case the MMRCA does not come to us by end of the 12th plan (March 2017) then our force levels start to go down rapidly. That is what we have to prevent. We have to maintain our force levels to certain levels," a concerned Chief of Air Staff told reporters in New Delhi.
Although India has decided to buy 126 Rafale aircraft from France, negotiations have been moving at glacial speed and many with the government feel that the contract, worth about Rs 9000 crores or 15 billion US dollars, may not go through finally.
The air chief said that if the French deal is signed by next year, the first Rafale jet will be delivered in early 2017.
"We cannot delay any further beyond that," he warned.
The Light Combat Aircraft is meant to be built indigenously by the state-run Hindustan Aeronautics Limited or HAL in Bangalore, but the project is already running behind schedule by almost three decades because of a serious lack of technical expertise.
As back up, the Air Force is looking to extending the life of its existing aircraft through mid-life upgrades. "The MiG 21's Bison-fleet will have to continue till 2025," he said.