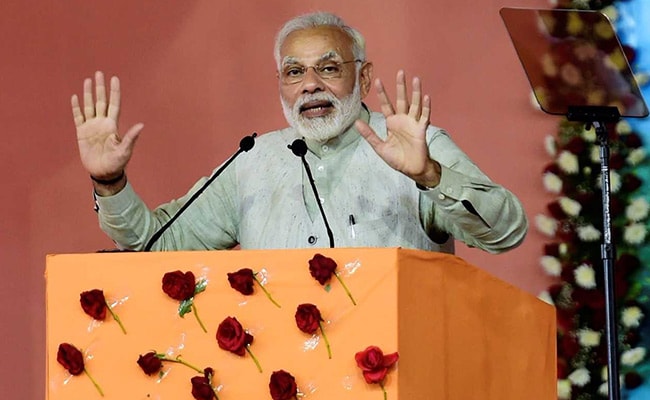 When Prime Minister Narendra Modi voided almost all of India's cash last year, Kuldeep Mishra's savings were turned into worthless paper. The vegetable wholesaler was forced to spend hours in bank queues and his business suffered for a month.
Still, he voted for PM Modi in state elections soon after and plans to do so again in a national poll due 2019.
"Wealthy people had black money and it all came out," Mr Mishra said in a market in Sahibabad in Uttar Pradesh. "We have never had a better prime minister than Modi."
Mr Mishra, 49, says sales rebounded in a month, though official data show India's expansion slowed to a three-year low in April-June, more than six months since the shock cash ban. Growth has also been affected by the disruptive roll out of a new sales tax, yet voters like Mr Mishra are expected to vault PM Modi to power in his home state of Gujarat next month.
There's no single reason for PM Modi's enduring popularity. While critics point to the Hindu nationalist agenda of his Bharatiya Janata Party as key to its electoral success, others say demonetization fortified PM Modi's reputation as an authoritative leader and undermined the opposition's attempt to paint him as a "suit-boot" government that favors the business elite over the poor by moving to make it easier to buy farmers' land and and hire and fire factory workers.
"While many accept that the move has dampened consumption, they believe it has dampened conspicuous consumption that was fueled by black money and tax evasion," said Reshmi Khurana, Singapore-based South Asia head for Kroll Inc., a risk management firm that advises foreign investors. "It did boost his image in the sense that he's being seen as decisive and willing to take bold action, even if it ruffles the feathers of entrenched stakeholders."
The view is echoed by Vinod Kumar Gupta, a businessman in Uttar Pradesh's Ghaziabad district, who said PM Modi "has the courage" to take bold decisions. "He has become a stronger leader, he's making India stronger," said Mr Gupta, 73. "His commitment to the nation is not doubted."
Key Test
Gujarat will be a key test, where voters will be called on to weigh PM Modi's personal popularity against his policies, which have disrupted India's vast informal economy that mainly deals in cash and creates the largest number of jobs. While India lacks adequate employment data, surveys suggest that PM Modi's far from creating the 10 million jobs a year needed to keep up with his young and rapidly expanding workforce.
The election in Gujarat, held on December 9 and 18, will follow the December 9 vote in Himachal Pradesh, which PM Modi is expected o wrest from the main opposition Congress party. The positive opinion polls are partly flattered by the fact that the Congress party and its leader Rahul Gandhi have failed to offer a compelling alternative.
"Rahul Gandhi is not very strong, he doesn't speak well and he lacks knowledge," said Shamshad Mohammed, a potato seller who said demonetization pummeled the economy without stopping corruption.
Though viewed as a landmark anti-graft move by the masses, many businesses viewed demonetization as an "ineffective" way to tackle endemic corruption, said Kroll's Khurana. PM Modi's also facing stinging criticism from within his own party, with a former BJP finance minister, Yashwant Sinha, saying the government has made a "mess" of the economy.
Aware of this change in mood, PM Modi has been countering with emotional and combative speeches, defending demonetization and himself as a champion of the poor. In a series of speeches last month, he said the Congress party tried to stall Gujarat's growth during the years that he headed the state, from 2001 to 2014.
"He packaged demonetization as a pro-poor and anti-rich move by projecting that he was going to take away black money from the rich and distribute it to the poor," said Arati Jerath, a New Delhi-based author and political analyst. "As economic distress set in, his stature has diminished."
She reckons PM Modi is benefiting from a lack of credible data to assess the full impact of demonetization on the informal economy and the Gujarat elections will reveal sentiment on the ground.
Milan Vaishnav, director of the South Asia program at the Carnegie Endowment for International Peace, said that any upside to demonetization will come only in the long-term, through greater digitization of the economy, shrinking of the informal sector, and a wider tax base.
Back in Uttar Pradesh, several old men sitting in the shade near tethered water buffaloes said demonetization's harmful impact was over. Discussing the previous evening's news that India had moved up the World Bank's ease of doing business ranking, they said they would continue voting for the BJP.
"It's not that all of Modi's policies are good," said Mahendra Singh, 76, a retired factory worker. "But we'll give him another chance in 2019."