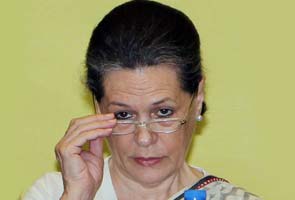 New Delhi:
UPA chairperson Sonia Gandhi has written strong letters to Delhi Chief Minister Sheila Dikshit and Home Minister Sushil Kumar Shinde, demanding safety for women and strict punishment for the men who gang-raped a medical student in a moving bus in Delhi on Sunday.
(Read letters)
Mrs Gandhi also paid a visit to the hospital, where she met the 23-year-old victim, who is on a ventilator after multiple surgeries.
In her letter to Mrs Dikshit, the Congress leader wrote, "I would urge you to take whatever steps are necessary to undertake community action, to strengthen law and order, and to step up vigilance to protect women. There is urgent need to demonstrate our sincerity and determination. You have my support and the support of our party organizations in whatever efforts you need to curb this menace."
Mrs Gandhi's letter to Home Minister Shinde read, "This monstrous crime deserves not only universal condemnation but also the Government's most urgent attention.... I hope you initiate immediate action to remedy the situation."
Mrs Gandhi had earlier spoken to both the Delhi Chief Minister and the Home Minister on the phone. This comes after angry opposition leaders today asked the government to explain what it's doing to protect women in an increasingly unsafe capital. Mr Shinde said that he will ask for the case to be fast-tracked with daily court hearings. He said a special committee has been set up in his ministry to come up with guidelines to offer better protection for women. More policemen will patrol the roads at night, he said.
The Delhi Chief Minister has also urged the Chief Justice of the Delhi High Court to open five special fast track courts for cases of rape and assault against women.
Meanwhile, the four of the six accused in the case have been arrested. The prime accused, Ram Singh, who was the driver of the chartered bus on which the gang-rape took place on Sunday, has been sent to five-day police custody. The other three arrested, including Ram Singh's brother Mukesh, will be presented in court on Wednesday.
The 23-year-old medical student who was gang-raped and hit with an iron rod for nearly 45 minutes on a Delhi bus is in critical condition, say her doctors. Her intestines are very badly ruptured, but she cannot undergo any more surgeries till she stabilises, say the doctors, adding that the next 72 hours will be crucial. Her male friend, who tried to intervene on the bus and was beaten up, has been discharged.
The incident took place on Sunday night when the 23-year-old medical student and her male friend boarded a bus for Dwarka from Munirka in south Delhi after watching a movie at a mall in Saket. A group of men who were on the bus began harassing her, asking why she was out late with a man. When her friend tried to intervene, he was gagged and then hit mercilessly with an iron rod. Five men then hit the woman with the same rod and gang-raped her while the driver kept the bus moving. At about 11 pm, the couple was thrown semi-naked onto the road.
A passer-by phoned the police which then collected the couple and moved the pair to hospital.