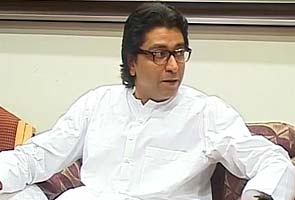 Mumbai:
Maharashtra Navnirman Sena (MNS) chief Raj Thackeray has targeted Biharis once again.
"Who were the one who did this? Nobody is talking about it. Just register cases against Raj Thackeray when he speaks. And after the rape, no one will talk about all rapists being from Bihar," he said last week.
His brand of divisive politics has largely been aimed at targeting people from the Uttar Pradesh and Bihar.
Raj's latest attack on Biharis comes after there was a huge outrage over the Delhi gang-rape incident. Even after the August 11 riots in Mumbai last year, Raj, during a massive rally at Azad Maidan, blamed illegal migrants from Uttar Pradesh and Bihar for the violence.
But his rhetoric of hate began soon after he launched his own party in 2006. Following Samajwadi Party leader Abu Azmi's call to distribute lathis to protect North Indians Maharashtra, Raj Thackeray said he would give swords to Maharashtrians. Soon after, MNS workers attacked North Indian labourers, forcing many to flee Maharashtra. In 2008, his cadre attacked North Indians appearing for a railway exam
Much like his uncle, Shiv Sena Chief late Bal Thackeray, infamous for his provocative and often abusive speeches, Raj has also got away because he has not been brought to book. Eight private cases have been filed in Bihar against Raj Thackeray for his inflammatory speeches where a non-bailable warrant was issued after Raj failed to appear in court. But not a single chargesheet has been filed till date.
Senior Janata Dal (U) leader Shivanand Tiwari has blamed the Congress-led government in Maharashtra for not reigning in Raj Thackeray. He told NDTV, "I think the Congress government has motivated it. They are not taking the matter seriously. They do not understand that the consequences can be dangerous."
Eighty-eight cases that have been registered against Raj Thackeray, many of them for hate speeches. His familiar rhetoric against North Indians has never been dealt with an iron hand. The worst Raj Thackeray has suffered is just two nights in jail. And the danger of his divisive, chauvinistic politics threatens to once again divide Mumbai once again, over his latest comments.
Get Breaking news, live coverage, and Latest News from India and around the world on NDTV.com. Catch all the Live TV action on NDTV 24x7 and NDTV India. Like us on Facebook or follow us on Twitter and Instagram for latest news and live news updates.