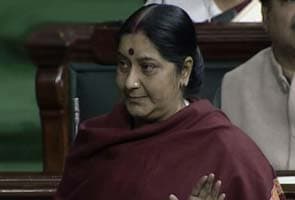 New Delhi:
The horrific rape of a young medical student in a bus in South Delhi on Sunday night was raised by angry parliamentarians today in both houses.
BJP leader Sushma Swaraj said it's time to introduce the death penalty for rapists. "What is the government doing to curb rape cases in the capital?" she asked. "The rapists should be hanged, we need tougher laws to stop rapes," she said.
Girijya Vyas of the Congress pointed out that there is no security on buses used by the public in Delhi. She also said that rape case need to be fast-tracked. "There should be security all around. Fast track is very much needed. I want to say that everybody should together... There is a need of self-defence programme. Please wake up and save our girls," she said.
Opposition members asked the Home Minister Sushil Kumar Shinde to appear in the Rajya Sabha to discuss the case.
Mr Shinde then outlined for parliament how the government plans to increase the safety of women in the capital
The minister said a new committee, headed by the Home Secretary, will evaluate what needs to change, based partly on suggestions made in parliament today by members of the opposition.
(Read: Home Minister shares plans to protect women)

"The gang-rape case in Delhi is chilling. The government must take tough steps - this is what the House wants," Speaker of Lok Sabha Meira Kumar said.
Parliamentary Affairs Minister Kamal Nath said that tough and strict steps will be taken.
The 23-year-old victim was raped by at least five men on Sunday night on a private chartered bus at about 9.30 pm. The men then hit her repeatedly with an iron rod; a male friend who was escorting her home and tried to intervene was also assaulted.
The victim is fighting for her life and is on ventilator support. Her friend is not in critical condition and has been helping the police with its investigation. Three men have been arrested, among them the driver of the bus and his brother.
The couple boarded the bus, which was impounded last night, after watching
The Life of Pi
at a South Delhi mall.