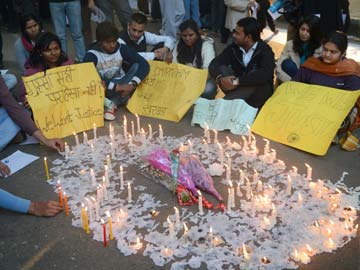 New Delhi:
A court in New Delhi has begun hearing appeal arguments over the death penalty given to four men for the fatal gang-rape of a young student that shocked the nation.
Defence counsel AP Singh said today that the High Court in New Delhi will hear the arguments on a daily basis before deciding on the appeals filed by the men, sentenced to death by a trial court in September.
"The court started hearing the arguments on Friday. We are hoping for a fair ruling. We are keeping our fingers crossed," Mr Singh said.
The trial court issued the death sentences on September 13 for the brutal gang-rape of the physiotherapy student on a bus last December. The woman died of her injuries nearly a fortnight later in a Singapore hospital.
The court said that the crime fell into the judicial system's "rarest of rare category" that allows capital punishment.
All the four convicts filed appeals in the High Court, seeking to overturn the verdict.
There has been a huge public clamour for the men to be executed for the attack on the woman on December 16.
The murder stirred widespread soul-searching over rampant sexual crime in the country, and resulted in tougher laws to punish rapists.
The convicts are being held at the capital's high-security Tihar Jail.
The fifth suspect in the case, bus driver Ram Singh, died in prison in March in an apparent suicide.
A sixth member of the group, who was a minor at the time of the assault, was sentenced to three years in a reformatory, the maximum penalty allowed under the country's juvenile laws.
India had an unofficial eight-year moratorium on capital punishment until last November, when the only surviving gunman from the 2008 Mumbai militant attacks was executed.