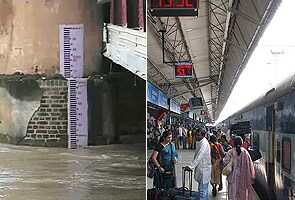 New Delhi:
The rising Yamuna flooded several parts of the Capital on Friday as the water level climbed two metres above the danger mark, threatening to submerge more low-lying areas.
The people living in and around Tibetan market, which is usually bustling, are watching in fear as the Yamuna is still rising.
There's knee deep water in the area, which reaches waist level as you walk further. The hapless residents of the area are grappling with what is an extremely difficult situation for them.
"
Kuch logon ne kaha ki baad aayegi, kuch ne kaha nahi aayegi. Isliye hum log nahi gaye. Kuch pata hi nahi tha, ab itna bura haal hai
(Some people said the area will be flooded, while others refused. So we got confused and didn't leave. Now we are stranded),"said one of the residents.
"
Aaj Eid hai. Eid season hamare liye bahut bada hota hai, aur sara business chaupat ho gaya. Sab kaam band pada hai
(Today is Eid which is a very big day for us. But today, the business is badly hit)" said another.
The water level in Yamuna rose to 206.70 metre at 12:30 pm, 1.87 metre above the danger mark of 204.83 metre and is likely to go up further as neighbouring Haryana would release more water in the river, a senior official of the flood control department said.
Haryana is expected to release 30,000 cusecs of water into the Yamuna.
The government has set up a temporary shelter for these residents at a nearby school, but convincing the people to move out has not been easy.
Authorities said the water level in the river is expected to rise further. Some low-lying areas near the river, including Garhi Mandu, Usmanpur Pusta, Jagatpur Village and Shastri Nagar, were inundated by the rising water.
Flood water also entered areas like Yamuna Vihar, Usmanpur, Madanpur, Sonia Vihar, Nigambodh, Jaitpur, Tibet Market and Yamuna Bazar.
Many people living in low-lying areas along the banks of the river were seen lined up on the footpaths on the ITO bridge with whatever was left of their belongings.
The authorities had, on Friday, evacuated hundreds of people. Seventy-four boats and 68 divers have also been pressed into service.
Over 100 personnel from National Disaster Response Force, were also deployed to assist the local authorities.
Meanwhile, the rising Yamuna has forced the Northern Railways to cancel 25 trains and divert 36 others.
The trains diverted include Kalka Mail, Shaheed Express, Garib Nawaz Express, Awadh Assam Express, Shalimar Express and Brahmaputra Mail.
As many as 39 trains including Satygraha Express, Lal Quila Express, Farakka and Howrah Janata Express have been short terminated, according to a Northern Railway spokesperson.
(With PTI inputs)